Lately my husband and I have been acquiring children's books – we want to know what we are reading before we read it to our little one. Of course it is important to make sure that there isn't something we do not agree with "preached" to our child through a story book, but we also want something that is fun for us as parents to read. Hank Finds an Egg by Rebecca M. Dudley is a great book for this, and I was so happy to receive it for review.
Hank Finds an Egg
When I was little I always wanted to read one particular book that had a TON of text, my very sweet parents always turned it down and asked me to find another one knowing that the one I chose would mean about 30 minutes of reading for them. Hank Finds an Egg has no words – so problem solved parents! It allows for the child, along with the parent if needed, to fill in the story as they flip through the pages of this very sweet story. As the title hints – Hank, a bear, finds an egg, and he needs to figure out how to get it to its home.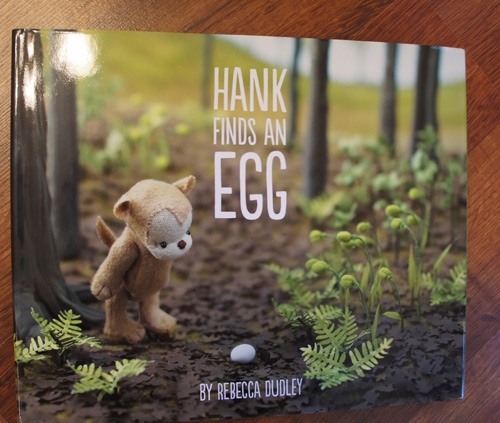 The Author, Rebecca M. Dudley, creates each of her characters and their surroundings and photographs them for the story. Hank is an adorable bear who lives in a detailed forest with creative details from the author. Not only is the story cute, but is amazing to go back and realize the detail with which she worked to create the backdrop and elements of the story. You can find out more about Rebecca, the author, on her blog. You can find your own copy of Hank Finds an Egg on Amazon (for under $15)  and Barnes and Noble.