Happy National Popcorn Month! Yes, October is National Popcorn Month, and I am so excited to celebrate! G.H.Cretors wants you to celebrate the month with their amazing popcorn offerings (including their addicting Chicago mix of caramel and cheese popcorn). I was SO excited to review their product in exchange for my honest opinion.
Popcorn – a Healthier Snack Option
Not only is popcorn a healthier snack option, but G.H.Cretors makes it even healthier. Their product is gluten free, and they use non-GMO popcorn and sugars. Instead of the corn syrup so often used to sweeten, they use brown rice syrup. Brown rice syrup is a good source of magnesium, potassium and manganese. Finally, their popcorn flavors are all Kosher. All of this makes their popcorn safe for just about everyone to enjoy!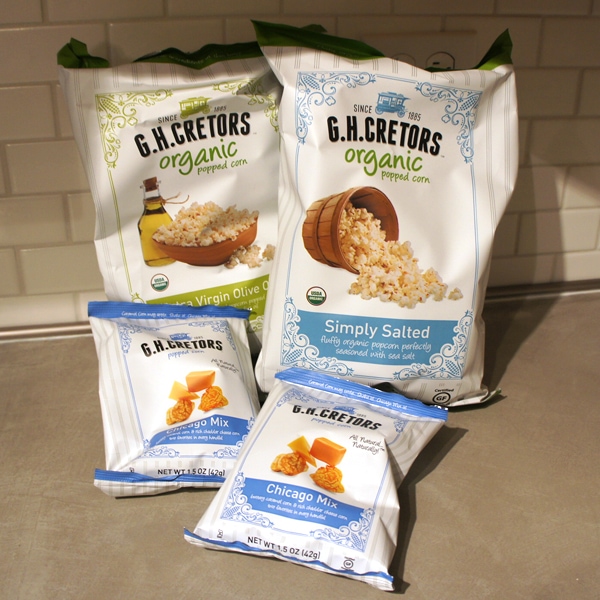 Now on to the flavors. Chicago Mix, Just the Caramel Corn, Just the Cheese Corn, Simply Salted (organic), and Extra Virgin Olive Oil (organic). The Chicago Mix is a mix of their cheese and caramel corn, and I have quickly become addicted to this sweet yet salty mix. Pro-Snacker-Tip: they have single serving packs of the Chicago mix. It helps limit how much you eat in one sitting. Extra-Pro-Snacker-Tip: They have HUGE bags at Costco so you don't have to limit yourself. The two organic options – Extra Virgin Olive Oil and Simply Salted – are both salted with sea salt, and while not coated in caramel, still really flavorful and a perfect snack. All of their popcorn is popped in small batches, creating light, fluffy perfectly popped pieces.
Find out more about the G.H.Cretors flavors and product offerings on their website. You can also use their store locator to find out where to buy all the flavors so you can pick your favorite! Make sure to follow their news and deals on Facebook, Twitter, and Pinterest.