Verilux HappyLight 6000 Energy Lamp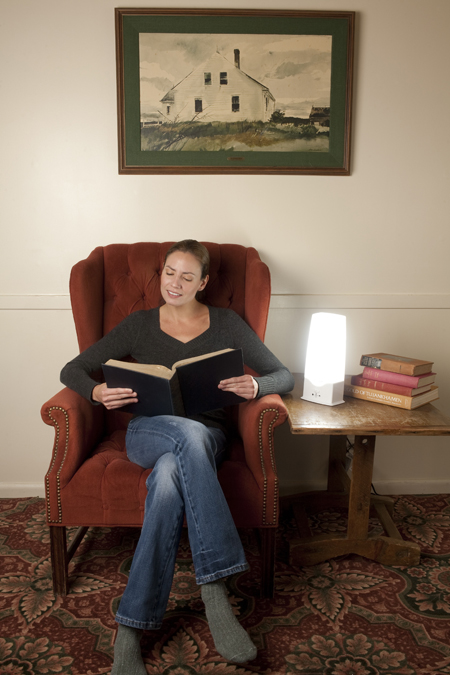 I truly believe that I am solar-powered. I thrive in sunlight and become depressed and useless without it. As soon as the seasons change and the daylight hours shorten, I struggle with daily tasks and obligations. I jokingly say that I should have been a bear. I kick into hibernation mode as soon as it drops below 70 degrees. I have seen lamps to fight SAD (seasonal affective disorder) in the past but this was my first time actually trying one out. Product was received for review purposes and this post may contain affiliate links.
Verilux HappyLight 6000 Energy Lamp uses Natural Spectrum Daylight which emulates natural sunlight to help regulate your body. It has also been shown to help enhance your exercise routine or diet plan by reducing your appetite and elevating your energy levels. I can see how that may be possible because the moment the darker days come, the less I feel like exercising. The light cues the body's natural energy enhancers which improves mood, energy levels and overall sense of well-being. Since this light mimics natural daylight, it also helps to recalibrate and stabilize, which improves concentration and reduces fatigue.
This lamp is the perfect size for my desk. Actually, due to it's compact and thinner size, I could put it pretty much anywhere I would like. The light itself is very bright and yet it's easy on the eyes. There is no squinting or strained feeling and it's surprisingly pleasant. It's true that when it's on I am instantly energized. In fact, before I started writing this post I was seriously considering a nap. Once I turned my HappyLight on, that thought completely left my mind. I am more focused, enthusiastic and feel the need to be productive! Amazing and priceless if you ask me.
I am beyond impressed with this lamp. It's hard for me to even explain how a light can do 180 on your mood and energy, but it's working for me. It's one of those things that you just have to try for yourself and I suggest you do so!