Headache and fever therapy is simplified with HeadCoolie. Days of dripping wet towels on sick foreheads are over! The HeadCoolie is an excellent, drug-free option for treating headaches and fevers. Product was received for review. If you suffer from frequent migraines, please read Shelley's experience with the daith piercing.
Cold Headache and Fever Therapy with HeadCoolie
Many people for many reasons try to avoid taking pain medicine. Children, pregnant women, or anyone who is looking to avoid drugs can benefit from this cold head wrap. We probably all remember having a fever as a child. Your parent puts a cold towel on your head… it's drippy, messy and stays cold for about 4 minutes…. usually not worth the short relief it brings! Thank goodness there are now more convenient options.

The HeadCoolie comes with two ice pack inserts. Simply place them in your freezer whenever they are not being used. That way they will be ready to grab when you need them. They are easily inserted into the Velcro pouch of the HeadCoolie. Comfortably wrap and secure around the head and enjoy the soothing compression!
This innovative product is great for a lot more than headaches. It can also be used to stay cool on hot days. It would be perfect for runners or anyone who exercises outdoors. I know it's been quite hot here lately and on some days it could be downright dangerous to run in the heat. Even if you are lounging on the beach, a HeadCoolie could provide a cooling escape.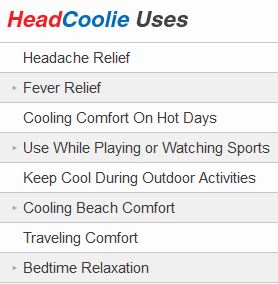 I have mentioned in other posts that I suffer from frequent headaches. The HeadCoolie is fantastic and I have been using it frequently. In comparison to similar products, of course there are a few pros and cons… One thing that I love about it compared to others is that it's thinner. It's easier to be more active because it is not bulky and sits pleasantly on my head. One tiny con is the ice packs can feel very hard against my skin for just a minute or so. Once they melt a bit they form more agreeably to the shape of my head.