I received healthy products from AdvoCare for review purposes. All opinions are my own. AdvoCare has been developing high quality health products for the last 20 years. They now have over 70 exclusive healthy products to help individuals explore their ultimate potential.
Healthy Products from AdvoCare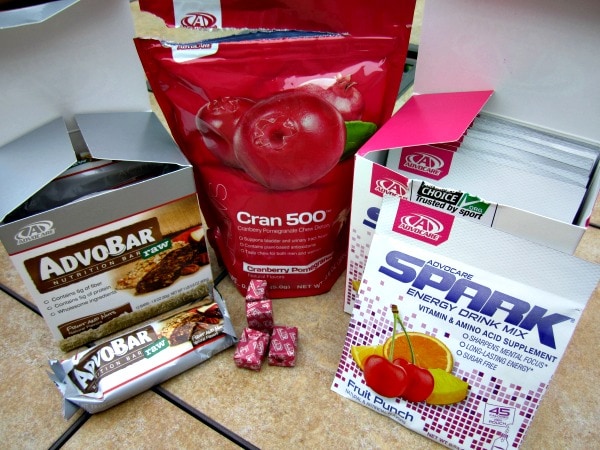 I had the pleasure of trying three of the AdvoCare products. Each one is something that I can personally benefit from.
Cran500™ – Tasty chews that are packed with 500mg of cranberry extract per serving, which is known to support bladder and urinary tract health. They also contain 100mg of pomegranate powder that is loaded with antioxidants and vitamin C.
Being a person that is prone to UTI's and kidney stones, I can definitely benefit from a product like this. I don't often drink cranberry juice, so I prefer to receive cranberry benefits in other ways. These chews are super tasty and I look forward to eating my 2 per day. They are individually wrapped and can be conveniently tossed into my purse or desk so I never forget to take them.
AdvoBar™ Raw – Wholesome nutrition bars containing simple ingredients. A minimally processed fruit and nut formula that supplies five grams of fiber and five grams of protein in a single bar.

I love being able to read, pronounce, and actually identify every one of the ingredients in what I am eating. At 210 calories a piece, these bars make a perfect snack, or even a meal on-the-go. They have a fruity/nutty taste that is quite delicious. The protein and fiber make them quite filling and I always feel good after eating a bar.
Spark – A sugar-free drink that provides long-lasting energy and sharpens mental focus. It contains a vitamin and amino acid blend for a super boost of nutrients that your body thrives on. Spark is available in eight flavors, has 21 vitamins, minerals and nutrients, is sugar-free, and contains only 45 calories. Simply stir, shake or blend a packet of Spark into 8 ounces of water or another beverage of your choice. Drink up to 3 times per day in between meals.
I have to be very careful with energy boosters of any kind. I tend to already have too much nervous energy, so that can easily turn into a nasty panic attack if I am not careful. I like to drink just half of the packet of Spark. That seems to be just enough to give me a nice alert feeling and get me more focused. It also gives me many vitamins and minerals that I need. The fruit punch flavor that I received is quite tasty, too.
This was my first experience with AdvoCare products and I am glad that now know about them. I am all about convenient products to help me stay healthy. These are high quality items and I am a big fan.
Learn more about these healthy products and many more on the AdvoCare website. Make sure to stay social with them on Facebook and Twitter, too!