This post is about something as close to home as it gets. Moms that need help. I participated in an Influencer Activation on behalf of Influence Central and Kangu. I received a promotional item to thank me for my participation. But all thoughts and opinions on this blog are my own.

Young, Stupid, and Knocked Up
That was me almost 14 years ago. I was just 16 years old when I got pregnant. I say I was stupid because I was. I was on the wrongest of wrong paths and completely irresponsible. Getting pregnant instantly threw me on a better path, but I could not have done it alone. My family stepped in and helped me through every step. My mom, Ben, and Jennifer were the ones that never left my side and are still having a hand in raising my kids to this day. They say it takes a village to raise them right, and we've got quite the village here.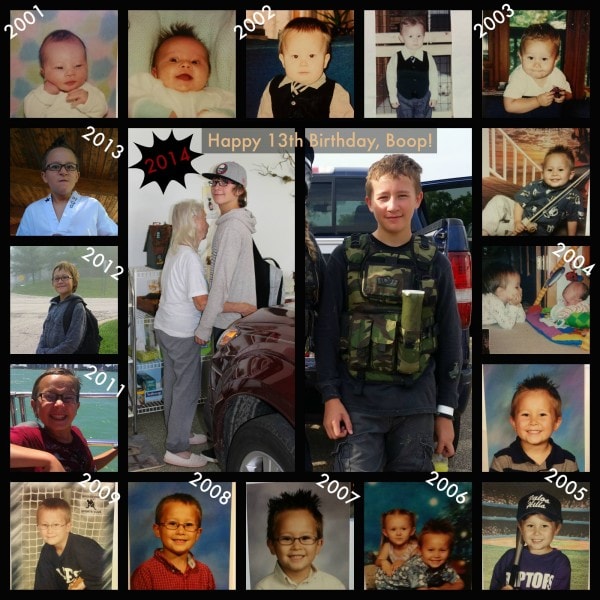 My son, Adam, is now 13 years old and growing into a wonderful young man. He's someone to be truly proud of and I can only take a tiny part of the credit that has gone into his upbringing. From financial, emotional, and physical support, my family and friends have helped me and my kids become who we are today. Chesney is 1o years old–sheesh time flies–and she's also growing up to be a talented, creative, and kind young lady.
I was and am so lucky to have all these people that truly care about my well-being and the kids'. Not only have they had great childhoods, but I was also able to still find and better myself. I am about to finally graduate (THIS MAY!) with my Bachelors of Science in Nutrition. It saddens me to no end that every mother–no matter how young or old–doesn't have the support they need to thrive and nourish their babies and themselves the way they deserve.
No One Should Feel Alone
Thanks to Kangu.org pregnant moms all over the world have a chance to get the support they need. And we have a wonderful platform that makes it easy for us to help. I, above anyone, feel a strong need to give back. When I thought I was alone, it turned out I wasn't. I had a support group entangled around me like a web of love. Now we can help build that for the all the moms in the world. A world wide web of love! (See what I did there?)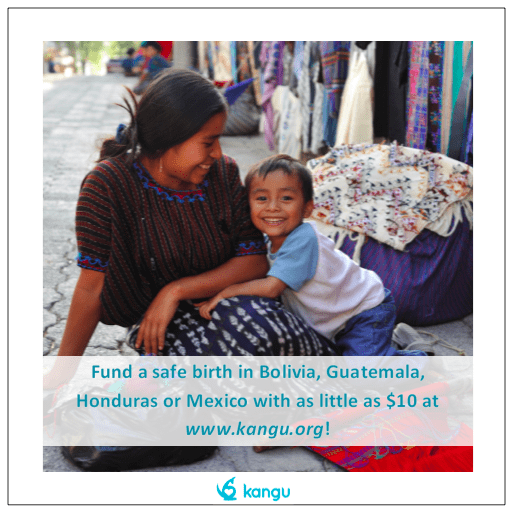 Kangu is a non-profit organization that's goal is to give every woman in the world the opportunity for safe birth. Kangu's crowdfunding platform is designed to help put an end to preventable maternal and newborn deaths by enabling donors to support life-saving health services for pregnant moms and their babies.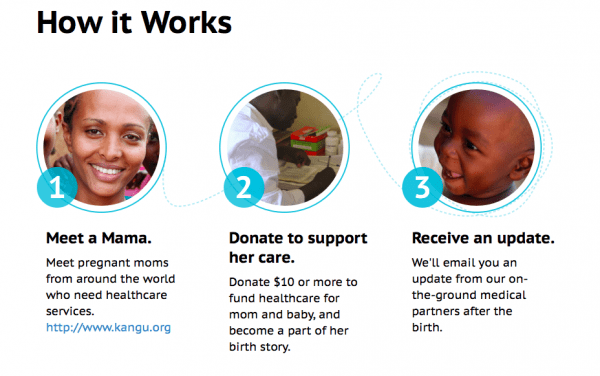 Did you know that every day 800 women die from preventable causes related to pregnancy and childbirth? 99% of these deaths occur in developing countries.
Helping is easy. Let's help make a difference! Visit Kangu.org for more information. Follow them and share the cause on Facebook and Twitter too!