Traveling with a laptop or notebook can be difficult. You want to keep your precious cargo protected, but it also needs to stay easily accessible for security purposes. The last time we flew I put my laptop in my normal carry-on which was nothing more than a large tote bag. I was nervous the entire time because I knew that my laptop was not really protected in there. When the opportunity to review this Heys eSleeve presented itself I was thrilled. Product was received for review purposes and this post may contain affiliate links.
Heys eSleeve 15.5″ Hardside Notebook Sleeve
I already own a few pieces of Heys luggage and love them. In the past I have had luggage severely damaged at the airport or during travels, so I now prefer the hard outer shell as opposed to cloth luggage. My Heys luggage is also metallic blue which is awesome and easy to find during luggage pickup! Heys truly is a brand that creates hassle-free products without compromising style. Their pieces are quality, durable, functional and sophisticated. Perfect for modern business people and bloggers! 😉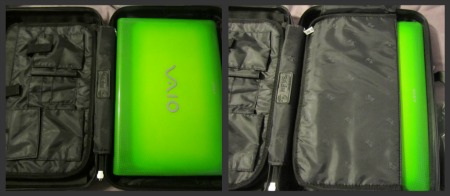 The Heys eSleeve that I received is violet which I love. (You can tell I like wild colors — see above green laptop!)  The outside has a metallic finish which is more than just for looks, it also makes it more durable and scratch resistant. Inside it is very spacious with lots of pockets to help organize paperwork, documents, chargers and more. There is also a padded compartment to hold a laptop up to 15.4″. I was able to put my laptop in there with tons of room to spare. It comes with an adjustable shoulder strap for comfortable and easy carrying, too. Or, the elastic strap on the case can allow you to place it on top of your rolling luggage safely for hands-free transport.


I don't like to go far without my favorite electronics. I am quite attached to them all! Thankfully, I can now carry them with me safely with my Heys eSleeve. I would highly recommend the Heys eSleeve Hardside Notebook Sleeve to anyone who travels. Make packing easier when your electronics have their own safe spot.