We don't go too crazy with giving expensive St. Patrick's Day gifts but it's always fun to give a little something. To make these little presents more fun, I've decided to hide them under an indoor rainbow. How fun is it going to be when the kids find an actual pot of treasure at the end of a real-ish rainbow!?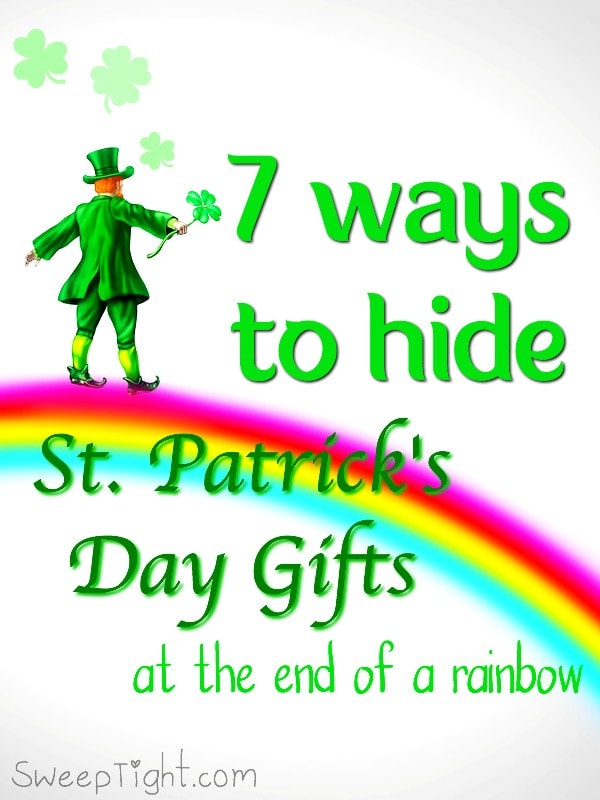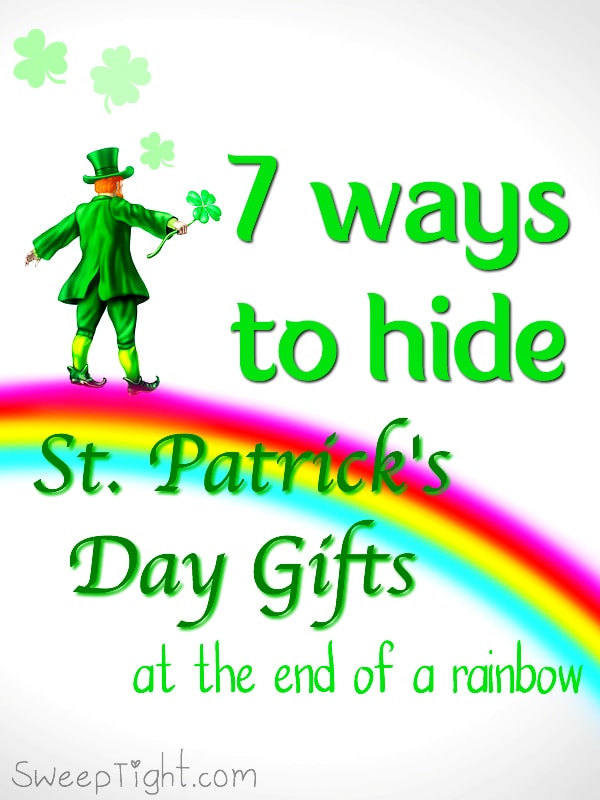 7 Ways to Hide St. Patrick's Day Gifts Under a Rainbow
How cool is this?! You can literally plug in an indoor rainbow. This is possibly the easiest way to hide your St. Patrick's Day gifts under a rainbow. Simply angle it so that the end of the rainbow lands on the pot of treasure. Or, bury the gift under a pile of blankets, pillows, or boxes so that the kids really have to dig for their treasure.
&
&
This one might be a bit more risky but it might be worth it for a smaller gift. Depending on your shower set up, you might be able to tie a gift to the drain so that when the rainbow shower is on, the gift is right under the end of the rainbow. You'd have to ensure the gift is waterproof and secured so that it doesn't wind up causing a serious plumbing issue. But if done correctly, this could be a really cute way to hide St. Patrick's Day gifts.
&
&
This Prism Pendant Suncatcher can scatter little rainbows all over the room. This one would have to be planned for the right time of day though, when the sun is at the right angle. Or you could also switch rooms to find the perfect lighting. But I think this would make for a really cute scavenger hunt. With dozens of little rainbows to search under, you could hide several little St. Patrick's Day gifts or just one big one and make them really work to figure out which one it's under. Plus these are fun to have hanging around the house all year round. My grandma always had at least one hanging in some window and we used to love seeing the rainbows all over the place.
&
&
This awesome little solar powered orb light could be the gift in itself. But you can actually hide something small inside of it too because the top comes off. Just be sure to leave it out in advance so it's fully charged in time for the rainbow surprise. I think this adorable little pot of gold Pandora charm would be super cute to hide inside this rainbow.
&
&
Going off of the prism sun catcher idea… why not just go crazy and turn the whole room into a rainbow disco! You could leave a trail of tiny shamrocks that lead to the hidden gift or just have a dance off to Irish music. Either way, this is also a super fun thing to have any time of year. And it's affordable so it's not a huge investment.
&
&
I think I want a few of these to put one in each room just for fun. Instead of scattering rainbows all over the place, this creates a straight rainbow that would be really easy to direct towards a hidden St. Patrick's Day gift. With a very Pink Floyd feel, this prism is great for adults as well as kids.
Whichever you decide, these prisms give the perfect opportunity to teach kids about the science behind rainbows. I can never resist squeezing in some sort of science lesson when the chance arises. 🙂
&
&
Speaking of science lessons, this one might be my favorite. You could prepare a liquid rainbow in advance and shine a light through it to lead to the treasure, or wrap up this book as the gift itself. This is also pretty cheap so you could actually do a combination of these and still have a decent pot of gold leftover for yourself.
&
&

Do you give small, big, or any St. Patricks Day gifts?