Honeycat Cosmetics

For starters I had a hard time leaving the Honeycat Cosmetics website! It is so fun and there is an amazing selection of cleverly-named products to explore! I want to try absolutely everything. I love the cat theme. Everything about the design and style of these products immediately caught my attention.
Thankfully, I had the opportunity to do more than just stare at the web photos. I got to try some of the products for myself. Even the packages are so adorable it makes the experience even better! Here are the products I received for review and my thoughts on each one: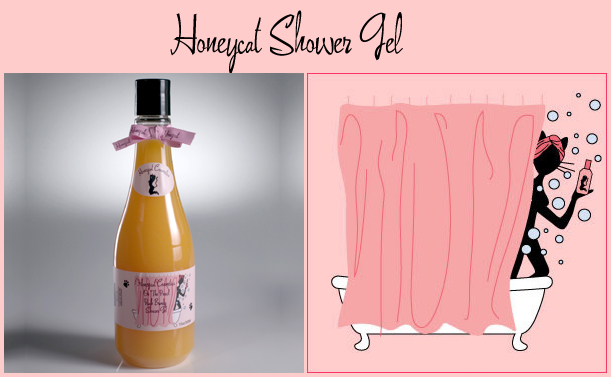 Honeycat Shower Gel:  This shower gel smells great! It has a very sensual scent that leaves you feeling sexy. It lathers up very nicely and leaves my skin clean and refreshed. The fact that it comes in the shape of a champagne bottle makes it even more fun and perfect for a gift!
Frisky Kitty Bath Time Fizzy/bath bombs:  Don't take a boring bath again! Just toss in one of these babies and enjoy the fizzy bubbles. So relaxing and they smell fantastic. After soaking in this skin-pampering treat, I was left feeling smooth and hydrated all over.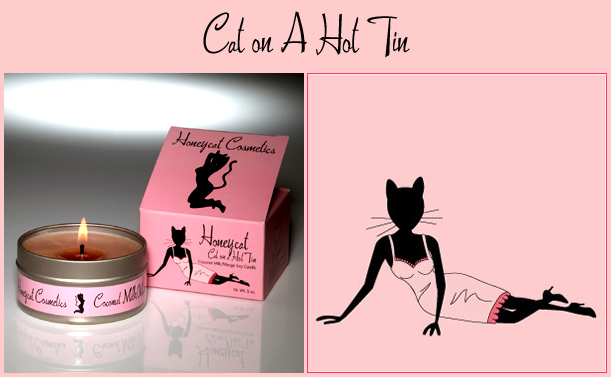 Cat on a Hot Tin:  Transport yourself to an exotic island with this candle! The coconut mango scent will make you feel like you are in the tropics. It smells good enough to eat – but don't – just light it to relax and enjoy the aroma.
I love everything about these products from the flirty, fun logo to the high quality ingredients. Feel even better knowing that Honeycat never tests on animals!
If you are in need of a bachelorette gift, I would definitely suggest Honeycat Cosmetics! The bride-to-be will just adore their playful products! I know I did.