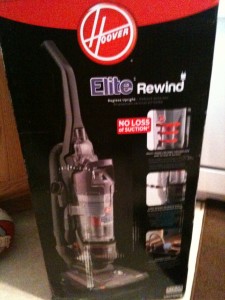 With spring just around the corner and having just given birth a few weeks ago I have been in a cleaning mood! When I was pregnant cleaning kind of took a back burner with everything else I had to do and the lack of energy I had. I've had a bit more energy since our baby arrived and getting spring cleaning done early has definitely been something I've been working on. Not long before our baby arrived we received the Hoover Elite Rewind Bagless Upright Vacuum for review. My husband normally does the vacuuming around the house, but with a new vacuum I had to try it! Product was received for review purposes and this post may contain affiliate links.
One of my favorite things about the Hoover Elite Rewind is the cord rewind! There is no more wrapping and wrapping of the cord, it retracts from the gentle touch of a very easy pedal! The cord is 25 feet long so it's plenty long enough to get a large room or even a room and a hallway without unplugging! There is also an 8 foot hose for easy cleaning above the floor. With having kids in the house I really need this hose and it's great having it be 8 feet long for super easy cleaning of messes no matter where they are. There are three height adjustments for easy cleaning on any type of floor. It is a bagless vacuum and it does have a rinsable filter and a high-quality HEPA filter! Big plus!
The only thing I wish the vacuum had that it doesn't is a light on the front. When we vacuum our living room and go into the hallway it would make it much easier to see but with the other great features if we had to live without one thing it would definitely be the light! It's one of those "it would be nice to have" things, but not necessary.
My husband has used the vacuum multiple times since we've received it and he loves it, as do I! It's a great vacuum, easy to use and has some incredible features!
Tips for Spring Cleaning Fun:
Hoover wants you to have fun with your spring cleaning and they have some great tips for a super fun event! When you start your spring cleaning, include the whole family! Schedule a day for the whole house to be cleaned, take attendance and have everyone bring fun songs to clean to! Have a dance off where every member of the family dances with the new Hoover Elite Rewind vacuum and the winner gets one less chore! Assign one room to each family member…depending on the size of your home some people may get more. Have favorite snacks and drinks on hand for scheduled break times. The scheduled times will keep everyone working with something to look forward to! You can also hide small tokens around the areas to be cleaned and the person with the most tokens at break time gets an extra five minutes! Go out and get your new Hoover Elite vacuum and get that spring cleaning day scheduled!
The Hoover Elite Rewind Bagless vacuum is exclusively available at Walmart stores for approximately $99.99.