I seriously cannot get enough yoga apparel from The Onzie. I received the outfit described below to facilitate my review, but all thoughts and opinions are my own.
Favorite Hot Yoga Apparel
The Onzie offers my all time favorite hot yoga apparel and I should not limit it by saying it is just that. I wear my gypsy pants all the time! The material can actually pass for dressy in a pinch. When we went to Houston for a business trip, I packed these pants thinking they'd be perfect for a workout in the hotel gym, but I ended up wearing them to meetings! They're crazy comfortable and super flattering. I received several compliments and people were shocked when I said they were actually yoga pants! Plus, the material is so lightweight they fold down into such a tiny size, packing them was like nothing.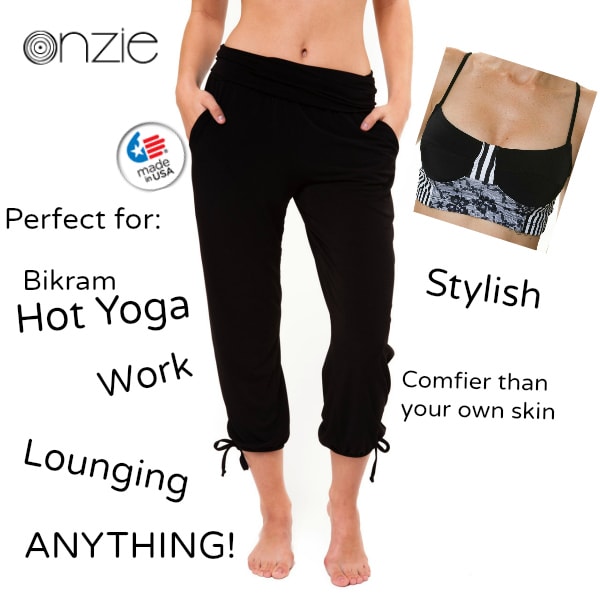 The Bustier Bra Top is also really comfortable and awesome to wear in a Bikram class. I also have a few transparent tops, like thin sweaters or that really light cotton, that I can wear the bra top under for a great layering look. I love wearing my workout gear at all times because then I am more likely to be active. I swear there is some psychology behind it. I remember reading an article about the power of a uniform. Well, for me, wearing fitness attire makes me want to be fit. And, hey, I'm open to whatever works! That's why I love The Onzie so much. They offer functional hot yoga apparel without sacrificing comfort or style.
With the new year right around the corner, I think anything from the Onzie would make a great gift for anyone. Or, the perfect way to treat and motivate yourself for a beautiful and healthy year to come!