Every fashionista knows that accessories can really make or break an outfit, and that goes for beach accessories as well! Beach style is all about cool, casual fashion that matches your laidback summertime mood, so you don't want to go overboard. Consider this your how-to guide for anything and everything you ever wanted to know about beach accessories and how to accessorize your beach look.
How To Accessorize Your Beach Look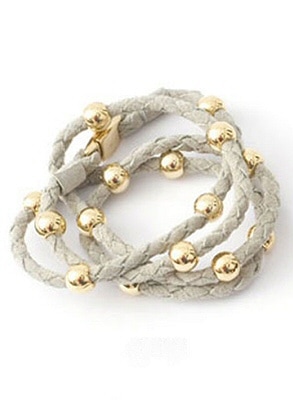 Jewelry
Jewelry is the most obvious form of beach accessories around. The number one rule to remember is KISS: Keep It Simple, Sister! Just like in everyday-wear, you don't want to go overboard with the jewelry. Limit yourself to no more than 2 or 3 pieces. Think earrings with a chic beaded bracelet OR earrings with a chunky necklace. Choose jewelry that compliments your beach ensemble and won't get totally ruined by sand or saltwater.
TIP: Big beaded cuffs and wrap bracelets are totally on trend this season and Cocobelle makes assorted styles that are all equally gorgeous.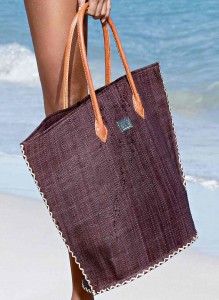 Bags
Beach bags are perhaps the most essential beach accessories and lucky for you, they come in an endless variety of shapes, sizes and styles. My personal favorite is the tote. They're not called carryalls for nothing! Totes are generally big and roomy, perfect for carrying all the essentials and then some, all while keeping your hands free. On the other hand, smaller clutches in linen, canvas and cloth are becoming more and more popular. They're subtle and chic and most are big enough to hold your phone, lip balm and a small bottle of sunscreen.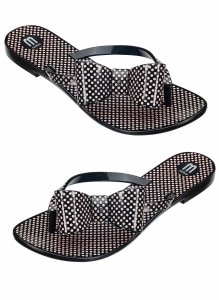 Sandals
When it comes to beach accessories for your feet, always choose sandals or flip-flops so you can easily slip them on and off. For a classic comfy look, choose a pair of Havaianas or iPANEMA flip-flops. For a fun and playful look, try jelly flip-flops and sandals from Melissa Shoes. But for all the fashionistas out there, check out Tkees leather flip-flops. Tkees feature the classic flip-flop design with a slim sleek strap; my favorite is the neutral foundation styles that are designed to match your skin tone.
Other Beach Accessories
In addition to those mentioned above, there are also a number of other beach accessories. Obviously, sunglasses pretty much go hand in hand with the beach, pool and sunny weather in general. Don't forget your protective case! Also, belts are often overlooked as beach accessories, but there are now a variety of styles that are inexpensive and appropriate for beachwear. Belts help add some definition to drapey loose-fitting cover-ups and they're also the perfect way to transition your look from beach-chic to chic street style. Among the most popular styles are beaded belts (check out Cocobelle's wide elastic styles) but you can also rock a thin leather or fabric belt. Whichever you choose, make sure it complements your cover-up.
Now that you know the basics of beach accessories, get ready to hit your favorite beaches in style!
Susan Bodack is a style expert at InStyleSwimwear.com, a fine retailer of fashionable designer swimwear, cover-ups and beach accessories. To read more of Susan's tips, check out her blog, Beauty and the Beach!