Do you remember being star of the week back in elementary school? I was star of the week in 3rd grade, we got to decorate an entire bulletin board, with pictures of our life… so far. We had our parents bring in treats and even got to eat lunch with a few friends in the classroom while everyone else had to eat in the cafeteria. It was a super special day! But what does it look like for a child that comes from a less than traditional background? Recently I was able to review a sweet story book from Darlene Friedman called Star of the Week. It is all about an adopted child's experience with being Star of the Week.
Star of the Week – How to tell your child's adoption story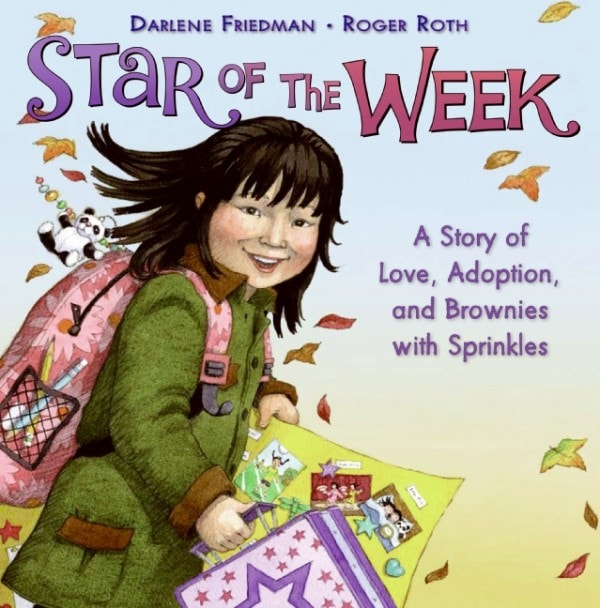 In our training so far on adoption, we have been told to keep our child's story to ourselves as much as we would like – to only tell the whole story to people we trust or that our child trusts. By adoption story, I mean where the birthparents are, their situation, why the child was placed for adoption, where they came from, what they are doing now, etc. When our child comes home, we will tell them things as we feel they are ready for it – but my husband and I will make sure to remind our child they do not have to share any part of it they don't want to. In this story, the main character, a little girl who happened to be adopted, narrates how she doesn't know her birth parents, and when it comes to talking about where she came from and how her family was formed in front of her classmates, she is nervous about the questions.
Star of the Week was a good reminder that even though it is obvious that a child is adopted (in the story it was a Chinese girl with Caucasian American parents) – they still might not want to have to answer questions, or feel uncomfortable brought to light. They might also have questions about their birthparents and wonder where they are and what they look like. This book doesn't have answers to those questions – but it does provide a means to start talking about them with your little one who was adopted.
You can visit Darlene Friedman's website to find out more about Star of the Week– or her husband Roger Roth (the illustrator of the book). The book can be purchased at amazon.com, Borders, and many other popular bookstores and online book websites.