You can wear the face of your favorite animal with these unique t-shirts from The Mountain. I had been seeing these big face shirts popping up all over the internet and I knew that I had to have one. As you can probably figure out by my posts, we are huge animal-lovers here. Why not wear their big faces with pride?! Shirts received for review. Post contains affiliate links.
Huge Animal Face T-Shirts
As I have previously mentioned, my Grandma has a small farm. She raises all of the animals as her pets – no one gets eaten. Each animal has a name and is spoiled like you wouldn't believe! So, when I saw the "Big Cock Head" shirt, I had to get it for Gram! (That's a sentence I never thought I would say.) 😉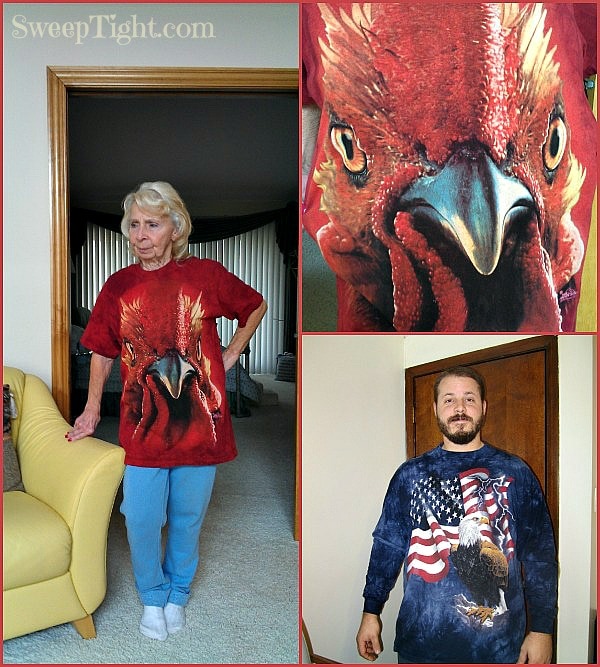 I got her the smallest size, but she's so tiny that it's still quite large on her. But, doesn't she look cute?! As you can see from what Mike is wearing, The Mountain has more than just big faces. This is a beautiful, patriotic shirt that he loves.
&
For myself, I got the Pig, Guinea Pig and Boston Terrier. Each one I just adore. I wear t-shirts when I am just hanging around the house. I have to be comfortable at home. In fact, I seriously "check my clothes at the door" after I get home from anywhere. Since these shirts are large, loose and super soft, they fit in perfectly with my home wardrobe.

All of the shirts have bright vivid colors and images that appear to be 3D. They are soft and extremely well made. We have all been wearing them for a few months now. I have washed each shirt several times and they have retained their colors and are super soft and comfy! These products are definitely more than just a novelty item.
If you like unique and fun t-shirts, get yourself a big face tee! Now that the 2013 styles are out there are even more to choose from. No doubt they probably have your favorite animal! Sizes for children and adults are available.