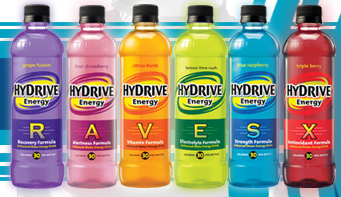 HYDRIVE Energy Drinks
It never fails, everyday around 2 or 3 in the afternoon, my energy level severely declines. My first instinct is usually to go get a huge coffee beverage of some sorts, but they only provide a short energy burst. The crash afterwards makes it not even worth it. I have tried some other energy drinks and never really found one that I love. Either I don't like the taste, or I don't like how they make me feel. Jittery and wired are not the results I am looking for. I just like a slight pick-me-up to get me through the rest of my day. Product was received for review purposes and this post may contain affiliate links.
HYDRIVE sent me some of their drinks to try out. First of all, I love that the entire bottle is only 30 calories. That definitely beats my typical frosty coffee drink! Second, I love the flavors! Each one is tasty without being too sweet and there is no artificial taste that I have come across with other drinks. It's just light and refreshing. I find that it also satisfies the sweet tooth that I get around this time of the afternoon, too. Like I said, it's not too sweet, but just enough to really enjoy the flavor. Another plus is that it's non-carbonated, which I prefer.
As far as the feeling I get from it, I am very pleased. Actually, just yesterday, I got so tired and just blah feeling. I was trying to do reviews and could not even form sentences correctly. I felt so sluggish in my brain. So, I grabbed a HYDRIVE. Probably about 20 minutes after drinking it, I definitely felt more alert. Sure enough, I no longer wanted to go take a nap and was cranking away on my review! There were no jitters or anxious feeling, thank goodness.
I am a person who is obviously is not afraid of caffeine, but HYDRIVE did just release a decaf version for those who would like to avoid it. HYDRIVE Decaf is 100% caffeine free and taurine free and comes in a scrumptious Wild Peach flavor. Another newbie is the Extra Strength! That is the one that I am more excited about. Extra Strength comes in a yummy Black Cherry flavor and contains 195mg caffeine, which is 20% more than the original drinks.
My only complaint is that they did not send me many of these drinks. I would have really liked a few of each, or at least every flavor. Thankfully, they are being much more generous with the giveaway prizes!