iHealth Scale HS3 – Digital weigh-in, tracking and sharing
The iHealth Scale is a step-on scale that can be used with iPod, iPhone and iPad. This precision electronic device allows you to track, save and even share your records using Bluetooth technology. Product was received for review purposes and this post may contain affiliate links.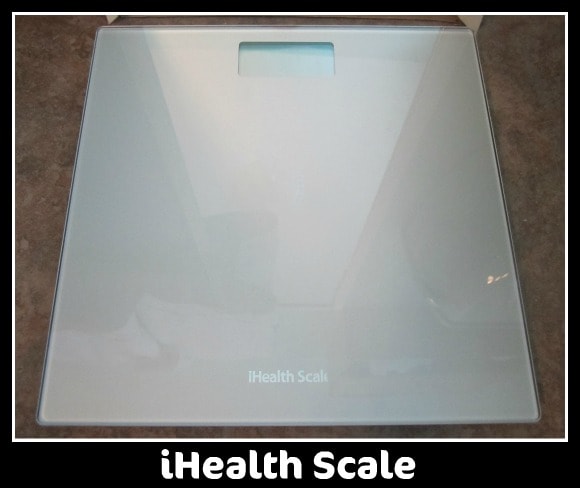 Weight loss is a numbers game. It's all about calories in vs. calories out. Manually tracking this can be a real pain in the butt, and personally, has derailed my progress in the past. But, if I am really serious about getting into shape, it is a very important step. Recording personal stats forces you to be held accountable for all habits consequently bringing the bad ones to your attention. For example, I am much less likely to inhale an entire bag of cookies if I have to write it down. Having recorded evidence of that is just embarrassing!
With the iHealth Scale, calorie counting is a lot easier. Your weight is automatically transferred to your device, so that's one less number to have to type in or write down. Then, you can head on over to the calorie input section to record your calorie consumption. It's easy to search for foods and add them to breakfast, lunch or dinner. You can also add any exercise that you would like to be calculated in. The app keeps track and lets you know where you are at for the day. Now we just need a Bluetooth food scale and heart-rate monitor and we are in business! 😉
The scale itself is sleek and attractive in my bathroom. It's just like a traditional step-on scale and easy to use. So, all other family members can still use it like it was any other scale. Additional users can also be added to the app if desired. "Eh, hem… Hunny?!"

As far as getting it all set up for the iPad, this was pretty painless. I have the original iPad and it synced just fine. I simply went to the iTunes app store through my iPad and searched for HS3. Immediately the iScale was listed as an option. I downloaded it for free and proceeded to my iPad settings. In the Bluetooth setting area, I made sure to connect the iScale.
Once connected, I explored the app. I was able to update all of my personal info like: height, current weight, desired weight, age and more. You can give as little or as much info as you please.
I know that I am not overweight. However, for my height and small frame, I prefer to be around 110 lbs. This is where I look and feel the healthiest. Also, keep in mind that I packed on these 10 extra pounds in a very short time. Which is all very unhealthy weight. Let's just say the hubby and I have had a little honeymoon filled with cake, ice cream and pizza since we got hitched in June.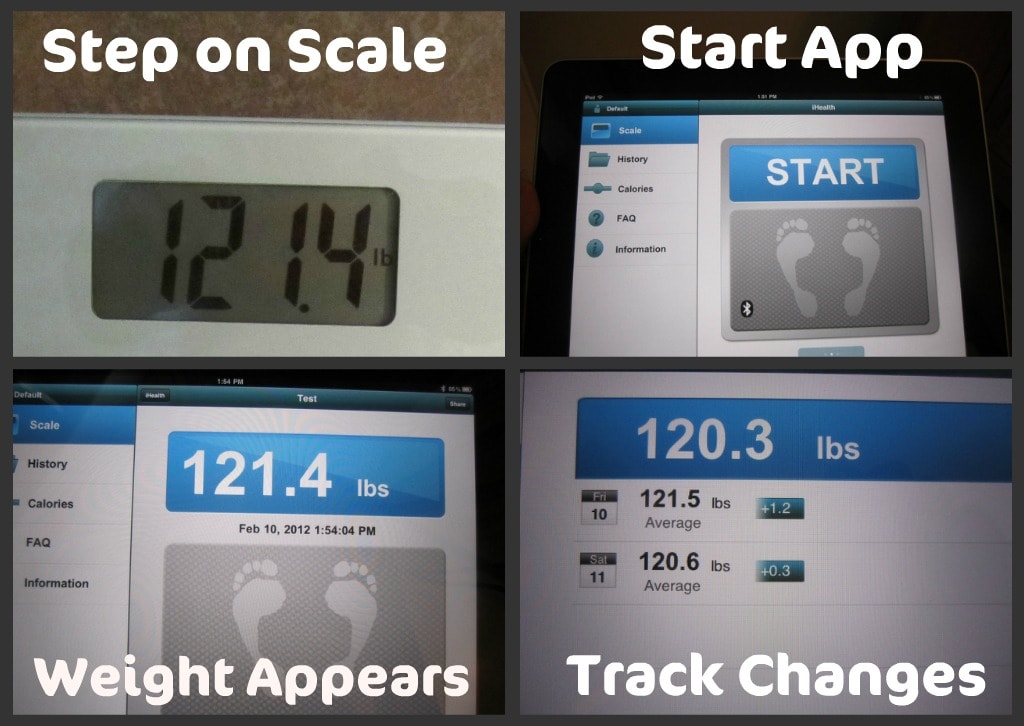 Easy! Now everyday when I step on the scale my weight will be tracked. There is also an option to have reports emailed to yourself or others – like, your doctor. I think I might have mine sent to my sister or a friend so they can help motivate me, too!
One tiny thing I noticed is a small inconsistency of the weight. Each time I step on it the tenth of a pound number is different. This is very small and doesn't bother me. My old scale didn't even give me my weight to the tenth, so I am not concerned.
Overall, I love this scale. I am all about all things tech-y, so this is right up my alley. Plus, the ability to have all of my health-related stats on my handheld device is just a dream to me.
Fitness + Gadgets = Love for me!
Disclosure:  I have received the reviewed product from Best Buy for free. All opinions are my own.