Whether you're a mom, career woman, student, girl scout, or combination of all, the In A Pikle bags are a necessity for everyone. I first discovered these on Pinterest and was totally in love. I'm one of those people that try to plan for EVERYTHING. I'm always completely over-prepared and as a result, over packed. I bring way too much with me at all times, vacationing, grocery shopping, doesn't matter. I feel the need to be prepared for random acts of life at all times. Product was received for review purposes.
Lifesaving In A Pikle Bags
Now, I can rest assured knowing that I have my "In A Pikle" bag near. It's the perfect size bag to fit in a purse, backpack or car glove box. These bags contain all the things you've ever wished you had handy when you found yourself, well, in a pickle.
Button on your shirt falling off? No problem, I've got a sewing kit.
Creepy guy on the train just sneezed on the back of your neck? No biggy, I've got antibacterial wipes.
Need to jot down a grocery list? Here's a pen and pad of paper.
Having an allergic reaction? I've got Benadryl in my little pill box.
Ow! That sliver looks awful. Let me grab my tweezers.
Yikes, white shorts and here comes your cycle? Let me give you a tampon.
Scraped knee? Viola! Here's a bandage.
Yeah, I kinda feel like a go-go-gadget-super-hero type with my "In A Pikle" bag at my side. These bags remind me of Jennifer Lopez in the The Wedding Planner when she opens up her blazer and is loaded with all kinds of emergency gear. Or, Michelle Pfeiffer in One Fine Day; when George Clooney says "Where can I get a bag like that?" after seeing her have a fix in her purse for every issue they ran into on that hectic day.
The "In A Pikle" bags are sleek, stylish and come with everything you need; including instructions on how to pack your little bag.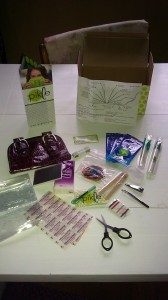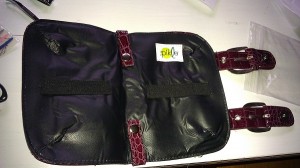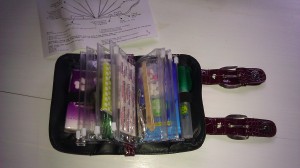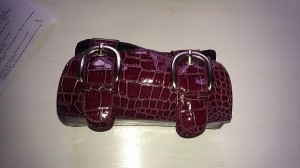 And, no worries, they offer refill kits to replenish the items you use most!
For 10% off your "In A Pikle" purchase, let them know you saw it here and use code "

sweeptight

"
What would you use most out of the Pikle bags?