I am so grateful for the outpouring of support that I have seen from friends and followers for my (and hubby's) adoption. I am currently working on a review of books for our child that will help share with them their unique story in a way small children can relate to. I am hoping this will create awareness for adoption and let other adoptive parents know about some great books! Today I am featuring a book I received from review by Andrea Nepa, Red Flower In The Bed.
Red Flower In The Bed – a book about Interracial Adoption
As an adoptive parent to be, one of the things we have received a lot of training on is interracial adoption. However much training we receive, I cannot think we will ever be prepared for the kinds of questions we get from people outside our immediate family. But we want to at least look prepared! We want our child to know they are different but beautiful, there are people in the world that look like them, but it is beautiful that they are different than their very white skinned parents.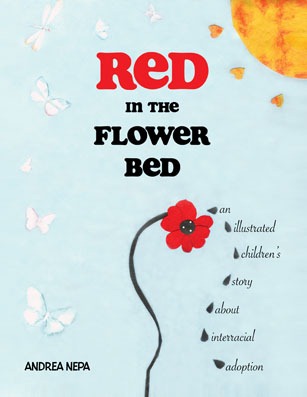 The author, Andrea Nepa, shares a story of a flower seed that needs a place to grow. After a long journey, the flower seed is planted and grows in a large bed of flowers of every different kind, but beautiful because it provided the Red In The Flower Bed that made the flowerbed into a rainbow of colors. Andrea and her husband adopted their daughter Leah from Vietnam in 2001 – it is amazing that she was able to create a story for her little one and to share with other families who experienced similar stories of different colored families.
You can find Red In The Flower Bed at Amazon.