I can now officially say I met Hawkeye and Scarlet Witch in real life. The level of awesome here has not escaped me. This interview with Elizabeth Olsen and Jeremy Renner was a ton of fun. This was another super opportunity received while on the Captain America: Civil War press junket.
Interview with Elizabeth Olsen and Jeremy Renner about Captain America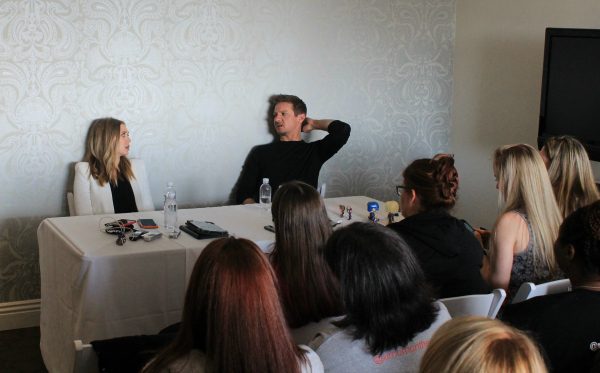 The first thing Elizabeth Olsen and Jeremy Renner noticed were all our little action figures sitting on their table. Jeremy cracked up at the Hawkeye mini bobble head and couldn't believe the "boy band facial hair" they gave his character… and the "moodiest facial expression" Elizabeth added.
Q: Naturally, we then asked if they like having action figures of their characters.
Elizabeth: "I love it. I think it's the weirdest thing, and I think it's awesome. My friend walked by the Lego Store in New York and took a photo of Scarlet Witch…"
Jeremy: "The hot toys… are great!"
Elizabeth: "No. This is a Lego. She's such a weird Lego."
Jeremy: "Hah. She has the snap-on hair."
Elizabeth: "Yeah, it was so funny to look at; the weirdest facial expression. It was fun."
Q: Can you tell us about your stunts and how much you do yourself?
Elizabeth: "I think we do as many stunts as we can. When we're there, we do everything. I don't like having a stunt person do what I do… Yeah, I need to get better at wirework and flying, I think, for the next one."
Jeremy: "Yeah, we just do it all. It's almost all practical stuff [for Hawkeye]… But there is one flip or something I cannot do so my stunt double–he's a badass–does it."
Q: What inspired you to do the role of the Scarlet Witch?
Elizabeth: "A few things. I was already a fan of Ironman and Avengers… when I told my brother–who loves comics–he's the person who can guess where everything is going and he's right somehow. I told him I was meeting with Joss… he started explaining who the Scarlet Witch was and he said 'when you look at the comics, just know you will not look like that. I will not put you in a leotard, cape, and head cast.' <LOL> I started reading more about her journey and I found the fact that her mind is the only thing that limits her, and the ever possibility of this insanity, and being so able to manipulate reality…to me, really cool. I didn't know when they would come into play, or if they will, and I still hope we play around more with that part of her. I just think she's a really cool character and there's a lot of opportunity for storytelling."
We were all sitting in hard, sort of awkward folding chairs. It was here where Jeremy interjected with "ARE THESE LIKE THE MOST UNCOMFORTABLE CHAIRS, YOU GUYS?!" Which led to more laughter and jokes because he proceeded to kneel at the table making it so that we could only see his head. His demeanor is so serious, it just made it all funnier.
Q: For the role of Hawkeye, do you need extra training for the bow? Do you bow hunt?
Jeremy: "I do not hunt. I didn't do any extra training [for this film]. Every time it's a different sort of set up with the bow and what's happening with the tech and stuff."
Q: There's a lot of action and a lot of humor in the movie, did you guys have any improv or was that just written in the script?
Jeremy: "The Russo brothers were great. They'd always have alt lines for certain things and these sort of one-liners they just let you kind of run with… a bunch of different things… so I have no idea what makes a cut… that was probably the funnest part of the job."
Q: Was there ever any real life tension between the actors?
Elizabeth: "No. It's a lot of laughing. There's a lot of jokes and a lot of inappropriate humor."
Jeremy: "Everyone's got a good attitude."
Elizabeth: "I mean, Paul Bettany, who is in such an uncomfortable costume, sweating through the prosthetics and he can't take them off–he's so miserable–and he is still one of the funniest people on set. I think everyone just has a good attitude. If we complain, we laugh about it and move on because it's–you can't complain about it. It's a really awesome job. And I think we all recognize that.
I'm so excited to keep going. Just because it's so fun to hang out with everyone. And to go to different locations… it's just fun."
Jeremy: "Until they kill us." <LOL>
Elizabeth: "Yeah, until we die." :/
We asked if they had a particular funny story from the set. To avoid any spoilers, I'll leave out the details, but they said they were shooting at like 4am and it was a scene with Paul Rudd, Jeremy, and Elizabeth. They were completely loopy and over-tired and could not stop laughing. Elizabeth's hand gestures look quite ridiculous without the CGI so you can imagine her being all serious about it and Paul Rudd just being him… Who on earth could keep a straight face?!
Q: (for Elizabeth) Is it hard to translate your movements?
Elizabeth: "Yeah. It's definitely weird. I love it. I grew up dancing, so for me, this is like some weird choreography. I get to meet with someone who's actually a very talented dancer and choreographer. We actually geek out over it and we send each other videos… of all these different ways of how to use the movement.
Hopefully we hope it continues to evolve and grow as she does and understands her powers more… I look like an idiot on set, but in my mind, I feel cool."
We then asked what they have in store next and they are actually working on a film together right now! I can't wait to see and hear more about that.
See Captain America: Civil War in theaters everywhere May 6th!
Like on Facebook
Follow on Twitter and Jeremy Too 🙂
Were you surprised to hear anything in this interview with Elizabeth Olsen and Jeremy Renner?