Tilda Swinton is one of those rare humans–the highest caliber of quality inside and out–a true artist. Meeting her wasn't like meeting just any celebrity. She's so much more than just a movie star. She puts a tangible piece of herself into everything she does. Watching her characters come to life on screen is like experiencing her presence in the room… so, it was more like being reunited with a supreme being. This interview with Tilda Swinton as The Ancient One was part of an all expenses paid press junket for DOCTOR STRANGE.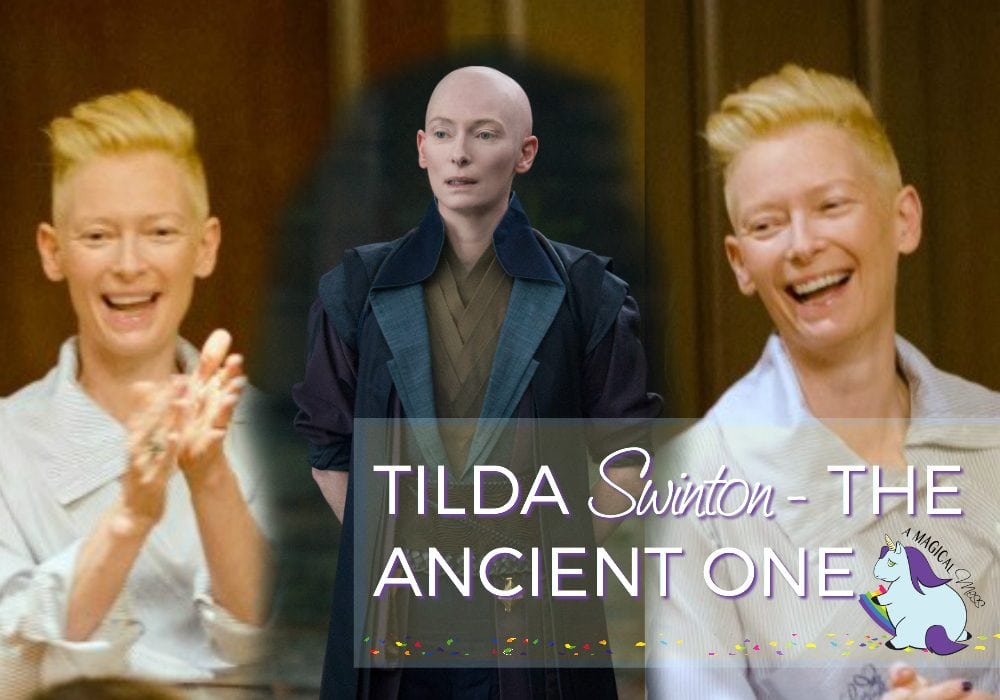 Interview with Tilda Swinton
Her entrance into the room was so genuinely happy. She clapped for us. I still can't get over how stunning she is in person. She's got such a versatile look–she can appear purely evil, beautiful, bizarre, or rather bland. In any case, she looks incredible and I'm pretty sure she wasn't even wearing any makeup.
She sat down and saw that The Ancient One was not represented in our DOCTOR STRANGE POP Vinyl figure collection and assured us that it is coming and it's adorable. It's also what is on her Christmas wish list…
What was it like getting into costume for The Ancient One?
Tilda Swinton: "Oh it's such a great costume! It's like pajamas… and those beautiful colors…"
Did you have any struggles with this particular role?
TS: "The only real struggle was casting spells–learning all these amazing things with fingers and then remembering what to say at the same time. And then they would say, 'So, you have to put your hands there, not there, because the light is going to go [from here]. So it was those kind of maths, but it was all good."
How did you feel about being cast in a role that's traditionally an Asian man?
TS: "Yeah, the comic strip–was an Asian man, in fact, a very ancient Tibetan man living on the top of a mountain. The film script that I was given wasn't an Asian man, so I wasn't asked to plan an Asian man–I was asked to play an ancient Celtic person. If I'd been asked to play an Asian man, I would've shown them Benedict Wong… <LOL> … Kevin and Scott were very, very clear about the reasons they wanted to shake up the stereotype. They felt that there were a couple kind of gnarly, racial stereotypes around the two big Asian characters in the film. One was Wong's character; he was sort of a servant. And the other was The Ancient One–who was a kind of old, Fu Man Chu character. Scott wanted to make it a woman… I think was a really, really cool move, you know, to put a woman in the Marvel Universe who's not twenty-one and in a bikini–although we love the girls in bikinis–it's really important, I think, the idea of a sorceress supreme being a woman. Then, when he thought of an Asian woman, he was worried that it would turn into a kind of dragon lady thing. He can explain it better, but basically they kind of came through the wash, and ended up with me."
What was the most difficult scene to film and why?
TS: "…the fighting is fantastic fun, really good fun, and difficult and interesting in fun ways. But, yeah, tough. Lots of looping about, and I set myself the task that the Ancient One would be completely serene through all the fighting. That was something… One thing that I find very challenging–and I would challenge anybody to do these moves without making sound effects like a nine-year-old boy… that was quite hard–not making faces.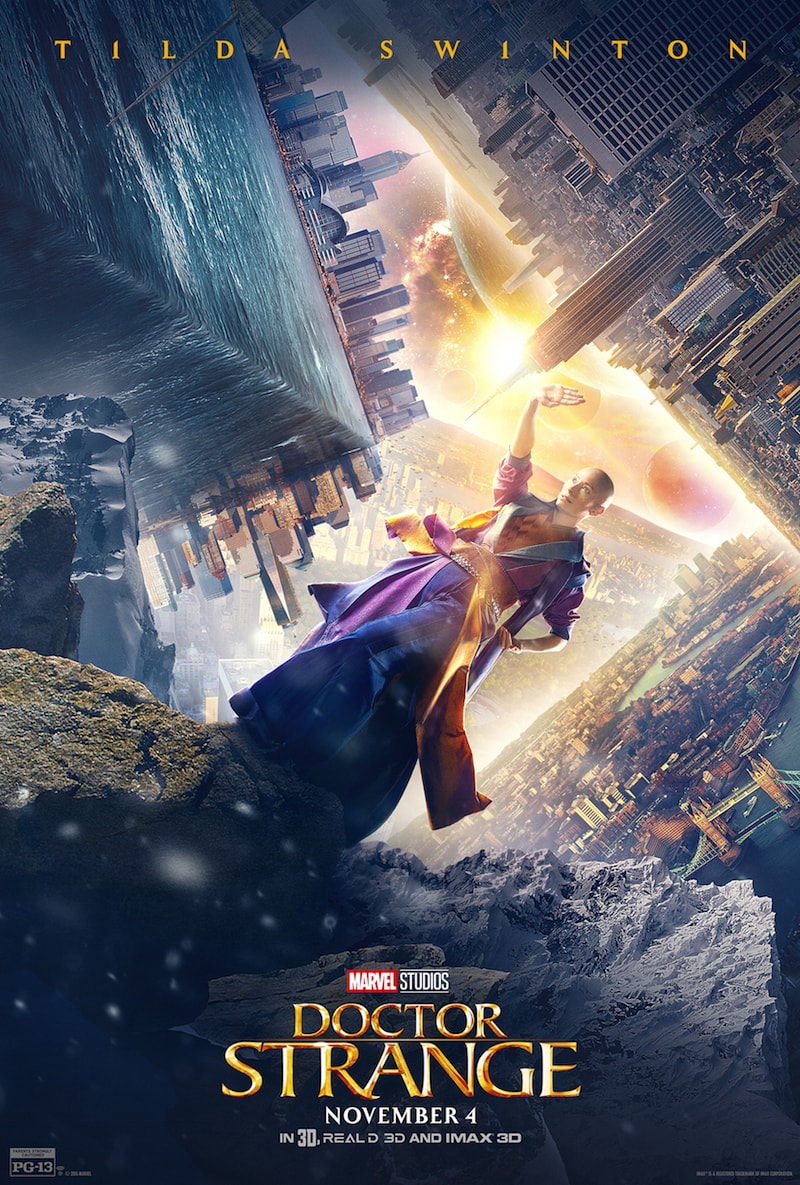 Did you do your own stunts?
TS: "I did a lot of them, but there was an amazing stunt double who I worked with called, Julia, who became a friend. We all had stunt doubles–we always do–because they do the things that are really dangerous."
How did you feel about being bald in the movie?
TS: "Well, it was my decision. It was my suggestion and we had several months of playing with options, all sorts of weird wig ideas, all sorts of long lobes and… we went 'round the houses with it but eventually, it felt like less was more… and I loved it. I thought it looked really, really ancient, but also kind of modern and rad and yeah, it was a nice feeling as well."
What was the dynamic of everyone on set?
TS: "We were sooooo happy! I mean, it's a little like–I don't know about anybody else in Marvel movies, but for me it was like being asked to join the circus. We all joined the circus and we were all given these incredible costumes and everybody in the Marvel Universe that I've met so far is so psyched to be part of it. Even though there are some people who have been there for years–technicians or people who have lit these films for years–or Alex Byrne who does the costumes–she's done like level Marvel films… nobody's jaded. Everybody's psyched. It's a playground! And the cast… we're all so happy to know each other. We're so happy to see each other here… Benedict and I were in China just now, but today we're all meeting our other cast members. We're so happy."
Have you seen the film?
TS: "I have, yes. But not in 3D… that magic–well, what we call the 'magical mystery tour' when I first push him into it–no one is going to need acid after this." <Bahahaha so true!>
What are your thoughts after seeing yourself in the film? … seeing it all come together?
TS: "I was really, really happy… I mean, maybe it's weird for all of us, if you see yourself on a home movie–like when someone's fuzzed out in a police video–you sort of see everybody else except yourself for a bit. But with this one, I don't know whether it's the way in which it's in this heightened universe… but we all look like Marvel characters. We don't really look like ourselves. There's something very smooth about everything, and that's to do with the way it's lit, and the way it's designed. And it's cut like a comic strip. So it's quite an experience and it was better than I'd hoped."
Was there any ad libbing on set that made it into the film?
TS: "Oh yeah. Scott was very clear from the beginning that even though the script was really sound and very good, he wanted us to be free and easy… there's a lot of nodding and winking that wasn't scripted… There's one ad lib that I made that we laughed so much at that's not in the film. When I throw [Doctor Strange] out into the Himalayas and then I come back… I wanted to say 'That'll do, pig.' That's my one disappointment about the film–they said they thought that maybe the Ancient One wouldn't have seen 'Babe.' But, I think the Ancient One knows everything. But… Scott was very welcoming and wanted us to throw stuff in, and we did.
Was there anything you learned about yourself while making this film?
TS: "I loved all the action, and I loved the feeling of being… I mean, this is kind of a boring answer, because it's about the daily work. But there was something about it–we were all very physical while we were working, and we would jump over to a B stage and do some physicial stunts, and then we'd come back and do some quite Zen scene. And I learned… I had a reminder of something I should've learned earlier, which is that it's really important to do the two. Nice, physical kind of energetic life along side some kind of introspection… is a really healthy thing. And I didn't get sick throughout the shoot–and we all always get sick when we're shooting–and I didn't get sick, and I think that's something to do with that. But then, I was reminded of how lazy I am. And how difficult I find learning lines is… I tried something with the Ancient One which was quite tricky–I tried to actually be in a kind of state of mindfulness when I was speaking, which meant that I didn't really learn my lines very well. That was something I learned. I don't think I'll do that again. That was quite hairy. I just was reminded again, of how good it is to be happy when you work."
How would you describe your character, The Ancient One, in one word?
TS: "It's a noun, not an adjective–perspective."
After the audition, what were your feelings upon hearing you had gotten the role?
TS: "Well, I was in a very fortunate position of not auditioning at all. I was in LA anyway… and I was told that Scott Derrickson wanted to meet me and I didn't know why. I'd met him in the past… but we had tea and he told me he was going to do this film, and he told me that he had written this part for me and he basically kind of emotionally blackmailed me and said, 'If you don't do it, I'll have to rewrite it so, I was flattered and honored and intrigued. Then, of course, I read it and I felt really good about it. I was very lucky. He presented it to me like that.. he about about the film there at that tea table–I remember was incredible–he said, 'This is going to be a film, a big, tent pole Marvel film about creation, and not about destruction.' And now we've seen it–that's what he's done! That's what's so moving I think about the film… this power that Doctor Strange is taught to wield is a power for good. It's new. I know that all Marvel superheroes eventually work for good, but there's a lot of city-flattening that goes on. But we actually put a city together again. When he described that to me, I remember thinking, 'Oh wow, I can't wait to see this film, let alone be in it.' I was in at that point."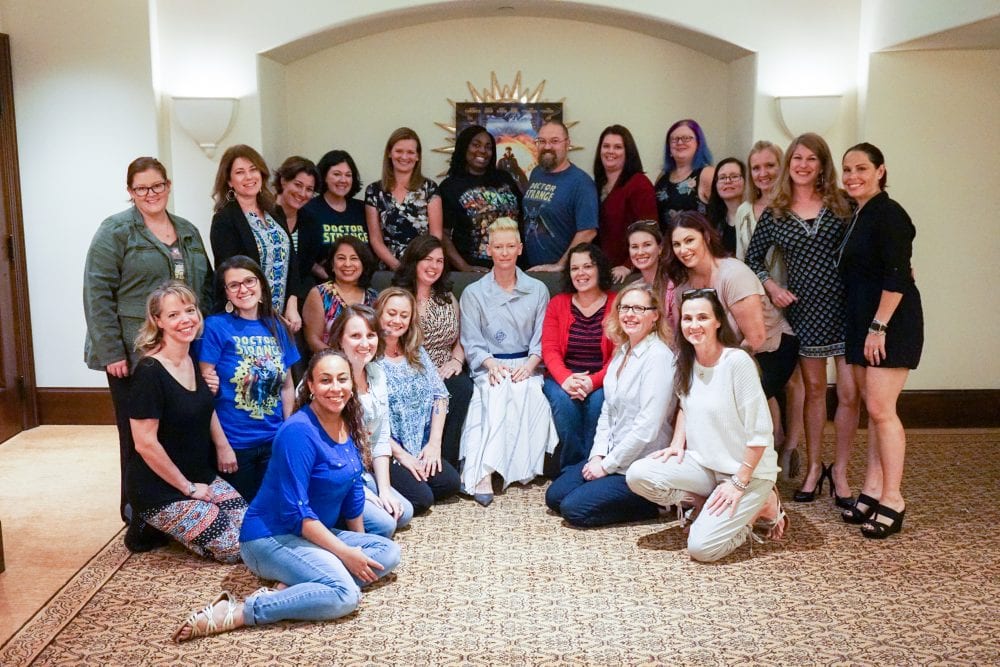 What's next…
Next up for Tilda Swinton is a great horror film remake, "Suspiria". She's a big horror fan and her eyes lit up when she talked about this film. Can't wait to check that out!
See DOCTOR STRANGE in IMAX 3D this Friday, November 4th!