For me, photography is a hobby that I love. But, sometimes snapping photos of unique, pretty, artistic scenery just gets old. Occasionally I want to be in the picture! And, I don't want to have that awkward arm in the frame from taking pics of myself—isn't that kind of up there with photographing yourself making a duck face in a mirror on the "d-bag" scale? Product received for review.
Photography – Get in the Picture with iPole Mini
As a parent, I have googols of photos of my children and I think I may be in two of them. Especially since I am a single parent, it is very rare when an opportunity presents itself for a family photo-op.
Well, let me introduce you to the iPole Mini. This brilliant, compact, go-go gadget extend-o arm allows you to photograph yourself from a distance without having that classic strained look in self-portraits. No more bright white forearm photos, or accidental nostril shots (okay that can still happen but it is much less likely.)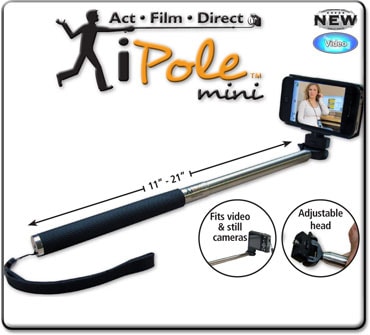 This handy little photography accessory can be used with still shots (just use your timer) and video. With the universal Super Mount, any smartphone will fit.
It is lightweight and small enough to fit in your backpack or purse. They even have another version that doubles as a walking stick for hiking, skiing, snow-shoeing, and so on! I highly recommend checking out some of these videos. The grey whale encounter is just awesome!
I think the best part about this product is that it allows you to actually be in the moment. Not just that you are on the screen, but you aren't stuck behind a lens missing what is right in front of you. I can't tell you how many times I've gone to an event for my children and missed it because I was so focused on getting photos and video.
Here is one of my favorite shots of the kids and I at a hotel sprawled out on the bed. This was taken using the iPole Mini, Super Mount and my smartphone.