JewelMint Jewelry
What is your favorite part about getting dressed up? For me it's accessorizing! I swear you can wear the most simple outfit and then completely dress it up with the proper accessories. Product was received for review purposes and this post may contain affiliate links.
Earrings happen to be a particular weakness for me. I find it hard to pass them by while shopping. I am always grabbing the latest, fun, dangling earrings that catch my eye!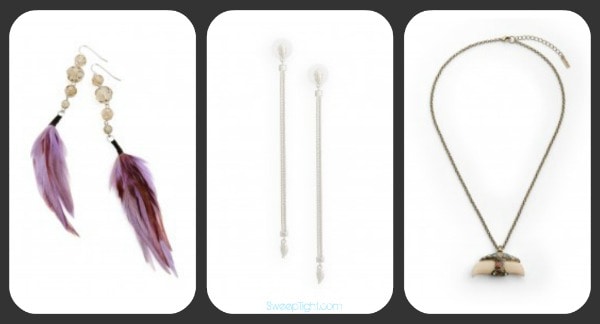 If you tend to get carried away with your jewelry shopping like me, allow me to introduce you to JewelMint! JewelMint is a jewelry club where you basically have your own person stylist hooking you up with the latest trends and fashions. Oh, and did I mention that the designers are Kate Bosworth and her celebrity stylist Kate Coulter?! Those two can help accessorize me any day!
How it works is first you take the style quiz. Based on your answers, they will create a virtual showroom for you with all of the pieces they think fit your style. Don't worry, you are not restricted to only these choices, it just helps narrow them down. You can view all of the other pieces, as well.
Step two is to review your results. Based on your style quiz you will receive matches. It's so much fun to see what they pick for you. Mine were all pretty accurate to my taste and I was quite pleased. Every month you will receive a new showroom featuring the newest additions to the JewelMint collection.
The third step is to SHOP! Every month you receive one credit to choose a piece of jewelry. This costs you $29.99 per month. The credit is good for any piece of jewelry on the site. This can be a huge savings because most of the items are worth quite a bit more than that. If there is a month where you see nothing you would like, you may skip that month within the first 5 days. Also, if you are out of credits, you may still purchase an item. The plan is quite flexible. Like I said, this is a great program for the fashionistas out there who require a steady jewelry fix!
You can also earn some credits through the referral program. Once you try it out and start rocking the unique JewelMint pieces, you know your friends will want in. Well, if you sign them up through your referral link, you can earn a free credit after their first purchase! Sweet!
I received three piece from JewelMint. I must say that I was extremely impressed by how fast the shipping was. The items arrived very quickly and were packaged nicely. They would even make a great gift if I were to consider parting with them! 😉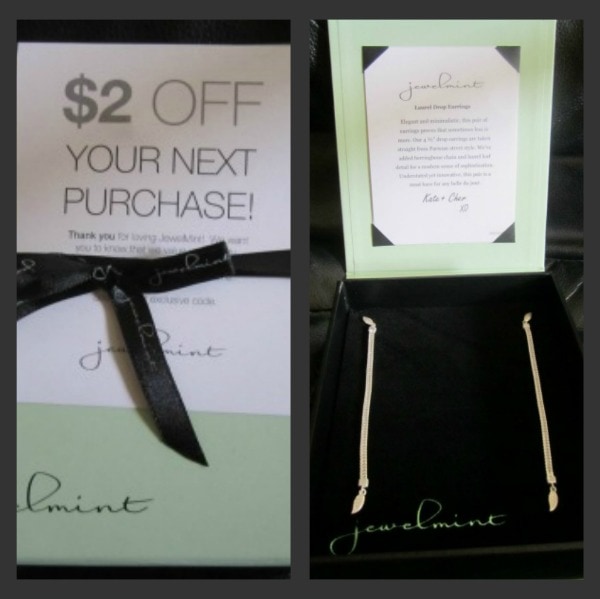 I chose two pairs of earrings (shocking) and a necklace. Each piece is extremely high quality and I am quite sure are worth way more that the $29.99 JewelMint price. This is the ideal way to treat yourself every month. A fun delivery filled with jewelry arriving at your door in a beautiful package? Yes please!
Now is the perfect time to try JewelMint out for yourself. They have generously offered Sweep Tight readers a coupon code for 60% off your first piece!!! That's huge! Just use coupon code:  SWEEP60  Code is valid for 10 days after this post.