Jockey Tech Sports Bra and Purex Crystals
Since I am trying to get back into some sort of fitness routine, having the proper workout clothing is very important. I received a 2012 Jockey Tech Terry Performance Sports Bra just in time. A good sports bra is key when it comes to running on the treadmill or actually any workout. That's one area of the body that you want under control during exercise! Purex and Jockey have teamed up and are featuring a 20% off coupon, so make sure you check it out. Product was received for review purposes and this post may contain affiliate links.


Here are some great features of the sports bra:
Moisture-wicking helps keep you cool and dry
Key pocket which is very convenient for working out anywhere
Reflective logo which is great for safety
Soft bottom band for comfortable support
This is a very comfy and supportive sports bra. I am able to focus on my workout without annoying fitness wear malfunctions.
Did you know that you normally should not use fabric softener on performance sportswear because of the oil? The oil interferes with the wicking process. I did not know this and it actually explains the deterioration of some of my old sports bras! Thankfully, this can be avoided with Purex Crystals!
Ever since my first review on Purex Crystals, I have not looked back. I will only use them for fabric softener now. Doing that review allowed me to learn about typical liquid softeners and how they are loaded with oil. Being that I have excessively oily skin, I want to stay away from oily products. I LOVE Purex Crystals and use them faithfully now.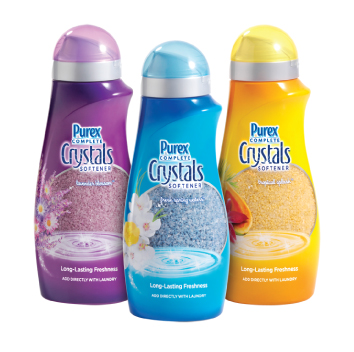 This time I was sent the yellow crystals which is the scent of "tropical splash". Best scent ever! I really hope my local stores start carrying it, but I am tempted to drive the extra miles to find it. Our clothes smell fantastic.
Since Purex Crystals are oil-free, they can be safely used on the following laundry items:
And, I would just like to add that I have less body breakouts since switching to Purex Crystals. I adore them!