Let's think about which 10 items we'd bring to an island. Journey 2: The Mysterious Island –  Own it on Blu-ray Combo Pack or Digital Download 6/5! Journey 2: The Mysterious Island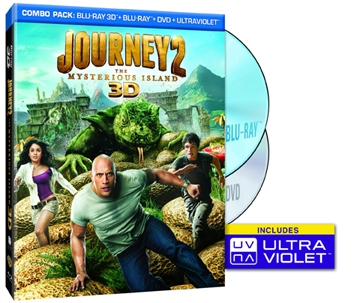 But first… I was thinking. If you knew you were headed to a mysterious island, what ten things would you bring?
Which 10 Items would you Bring to The Mysterious Island?
This was tough, but here is my list:
1.)  Laptop. Yes, my mysterious island does have wi-fi. It has to otherwise I cannot make this pretend list!
2.)  Knife. For many reasons including protection and cutting fruit. I will not be eating bugs or animals.
3.)  iPad. Yes, I do require my iPad and my laptop. I need to play Words with Friends and read books from the Kindle app.
4.)  Pillow. I know I would have to create some sort of shelter and sleeping arrangements from shrubs and stuff, but a good pillow is non-negotiable for me. I am bringing my own.
5.)  Toothbrush and Toothpaste. Another thing I would not know how to do in the wilderness is probably clean my teeth. Bringing it.
6.)  Sunglasses. I have super sensitive eyes!
7.)  Razor. Can't go longer than a few days hairy.
8.)  Solar-Powered Chargers. For the electronics, of course.
9.)  Husband. I wasn't going to add people, but he's gotta come with! And my dogs!
10.)  Sunscreen/Bug Spray Combo. Hopefully that exists.
As you can see I would probably last about 3 minutes on my own. I have approximately zero survival instincts. Let's hope my hubby's list would be better.