Chicken Soup for the Soul: Just for Preteens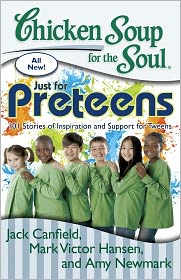 Since I am a member of the Chicken Soup for the Soul blog network, I get to check out all the new releases! I truly enjoy all of their books. They are always so inspiring and uplifting. Product was received for review purposes and this post may contain affiliate links.
The latest book is for preteens. The last one was for teenagers and in my review I said what a mess I was back then. Well, I take that back…my true disaster years were my preteens! Oh my gosh, what a mess. I was so shy I could barely speak to another human. I wore the biggest dark green glasses ever made and had a poodle perm. Sure, now I can laugh about it, but back then I was deeply depressed. Without a doubt ages 9 thru 12 were my worst ever.
One very important thing that sticks out in my mind about those years is that I never talked about my problems. I felt so alone and I never even tried to reach out to friends or family. I think that's pretty common for tweens and even more reason to why this book is important. There is no talking or opening up necessary, just start reading these short stories and know that you are not alone! Most people have gone through a messy awkward phase at some point in their life. The tween years can be the most challenging!


I think every preteen should own a book like this. Even the most popular tween could benefit from it!