Kakadu Pet Cot + All Seasons Mat
We have a hard time keeping pet beds around here. Our 100 pound German Shepherd, Hilo, is a little destructive with them. Let's just say he "has his way" with them and then rips them to shreds. Quite the love/hate relationship!
Kakadu sent us the extra large pet cot and all seasons mat and they were the perfect size for Hilo. There was some minor assembly required that Mike took care of in under ten minutes. It was so funny because Hilo must have known this was for him. He was very excited the whole time Mike was working on it. After it was complete, he jumped right on!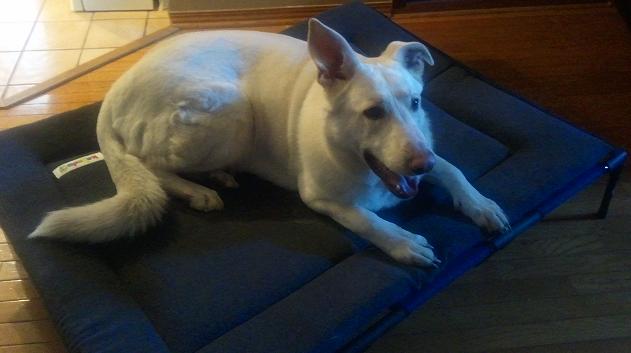 Since this is a pet cot instead of a bed that just lays on the floor, he can't just pick it up with his teeth and shake it around. Plus, Kakadu has very strong, high quality items, which I had already known from my previous review with them. This cot is also extremely well-made and versatile. The all seasons mat can be used on the cot or by itself and it is machine washable. It's weather-proof and constructed with rust-resistant steel. Kakadu products are built to last!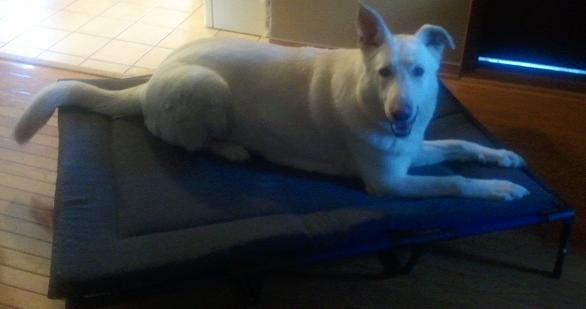 Being that it is raised, this will be great for summer, too. When Hilo is in the yard on a hot day, we will often find him laying under the deck in the shade on the cool rocks. That doesn't look too comfy. We can set this cot in a shady place for him and he can relax! We also have concerns about his hips already. Unfortunately in German Shepherds, as with most big breeds, hip dysplasia is pretty common. Even though Hilo is only three years old, he sometimes shows some early warning signs. I would think that getting him up off of the hard ground would be a lot better for his hips.
We are all very excited about this cot! Especially Hilo!