Karina has sent me several dresses to review. I am working with a group of fabulous bloggers during the Karina Dresstacular™ Event. All opinions are my own. This Karina dress is a little bit heavier and warmer for the cold winter weather we are having.
Karina Dress Great for Winter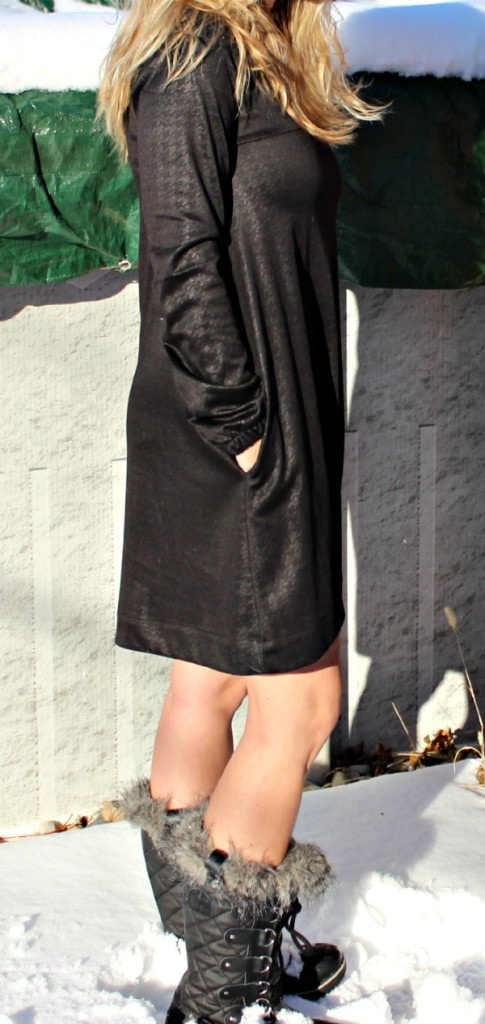 This time around I received the julie dress from Karina in Charcoal Herringbone Ponte. The julie style is a swing a-line with long sleeves and pockets. The ponte fabric is double-knit making it a little thicker than their typical fabric. It's still machine washable and wrinkle free like the others, though. I like that it's warmer, but it definitely doesn't give as much as the other fabrics. I still find it quite comfortable, but if it was more fitted I may have wanted to choose a size larger.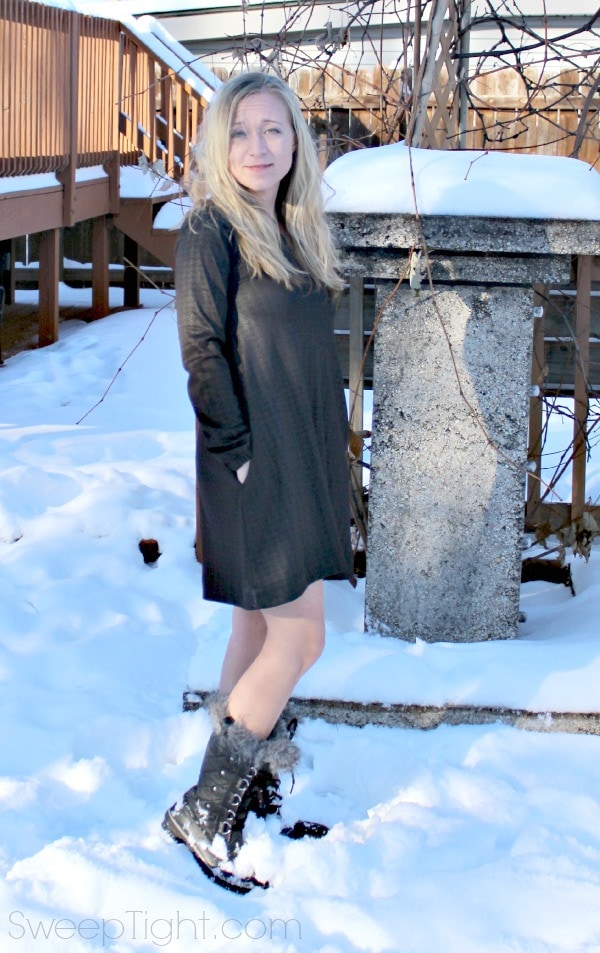 This is the second dress of Karina's that I have with pockets. I just love pockets in a dress. With the cold weather, I am even more grateful for them. Normally, I would be out in the snow with a coat on, obviously… but, to be honest, I wasn't that cold thanks to this fabric. I am always freezing, so that proves that the ponte is a much warmer fabric.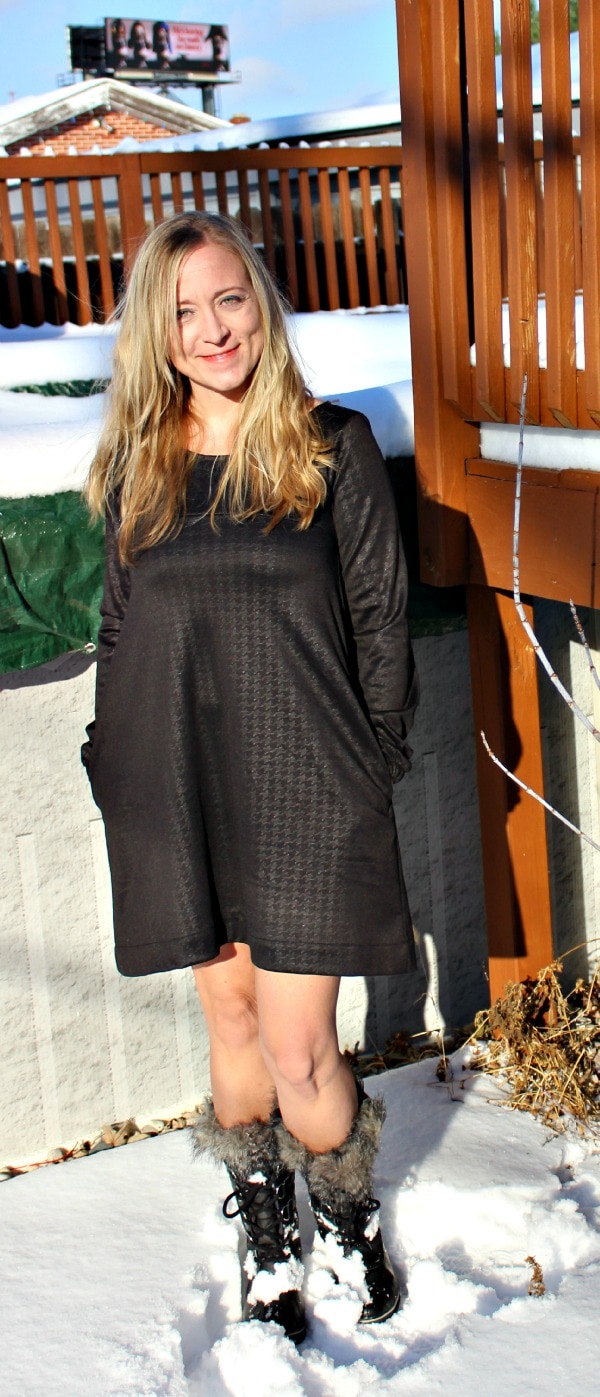 I think when I wear this dress somewhere other than our yard I will definitely put some leggings on. It's a tad too cold for bare skin! My warm Sorel Boots sure help, though.
Okay, here I definitely look cold, but the wind was blowing.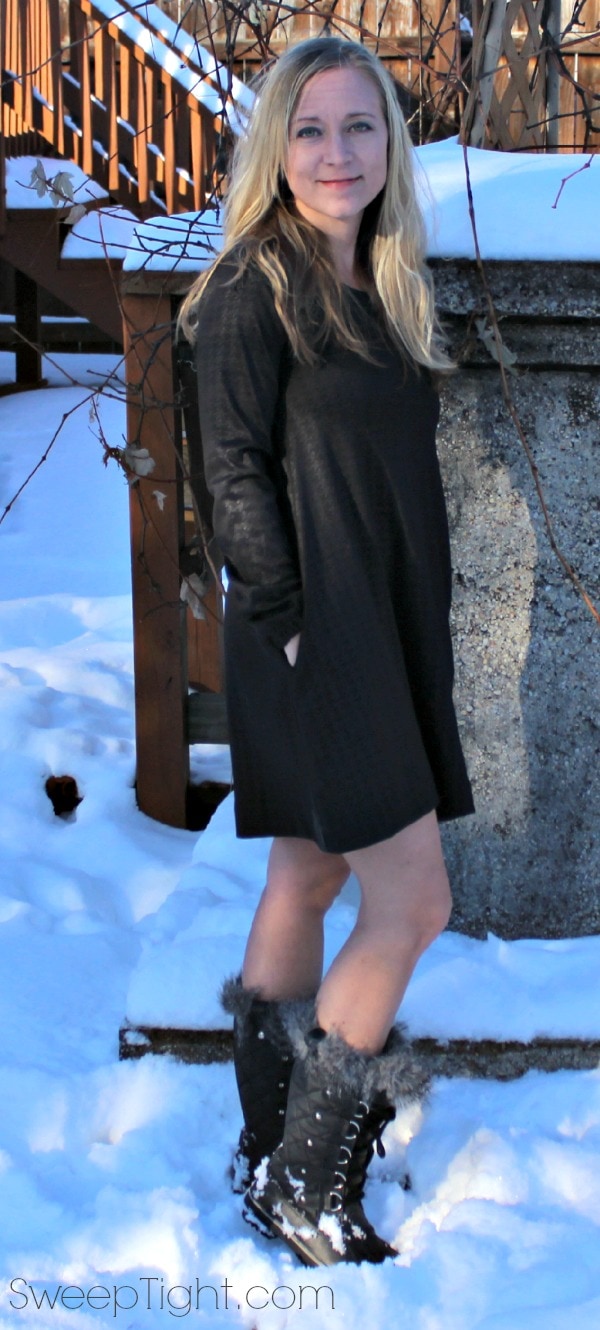 Overall, I found this to be a very comfortable dress. It's versatile and can be dressed up or down with some simple additions. I can see myself wearing it for a variety of functions this season.
Sign up for the Karina newsletter for exciting updates, sweepstakes and specials!
If you are a blogger and you would like to do a review of a Karina Dress, they choose their reviewers from their affiliates! You can sign up to be a Karina affiliate.