Karina has sent me several dresses to review. I am working with a group of fabulous bloggers during the Karina Dresstacular™ Event. All opinions are my own. My second Karina dress is the penelope 3/4 sleeve in purple plaid.
Karina Penelope Dress with Pockets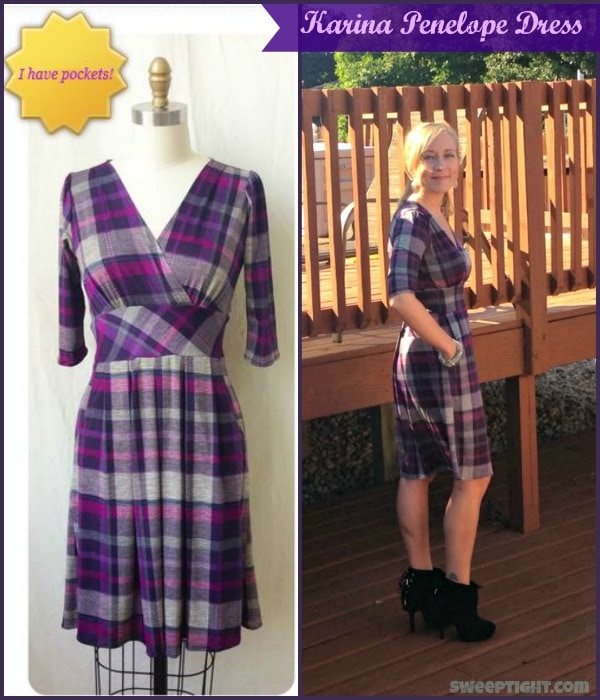 This Karina dress is just as comfy as the first one, but it has pockets. Pockets in a dress for some reason make me very happy. They seem to add to the comfort. I chose the purple plaid pattern because I love shades of purple, and I also thinks it makes this dress very casual. The criss-cross v-front and waistband keeps it flirty and feminine. The pleated skirt and small gathers make it extra flattering. This dress can take me through the seasons for a variety of different occasions. It's easy to switch up the shoes and accessories for different looks.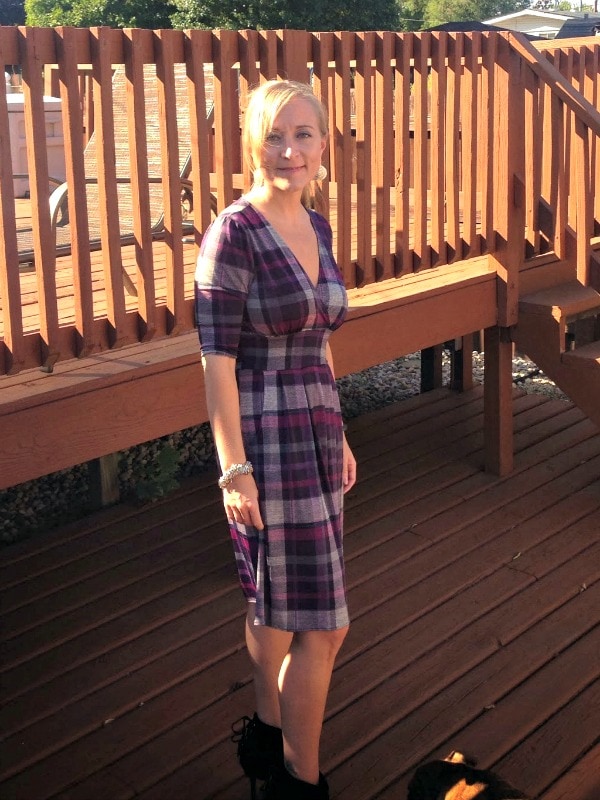 In the picture I am wearing tall booties, but on cooler days I will definitely pair it with some leggings and boots. Flats or heels will both work with this dress. That's important to me for blogging events — I learned the hard way that heels just aren't worth the pain on those long days!
The material is ultra comfortable and very forgiving. It's able to handle small weight fluctuations and keep you feeling confident on those "puffy days". Women even wear these dresses into their pregnancies. The dresses are truly made to last.
As with all Karina dresses, they are machine washable and never require ironing. These low maintenance dresses are ideal for busy women everywhere. There's so many different styles and patterns to choose from, and something for every body shape, age, and taste.
Sign up for the Karina newsletter for exciting updates, sweepstakes and specials!
If you are a blogger and you would like to do a review of a Karina Dress, they choose their reviewers from their affiliates! You can sign up to be an affiliate here.