American Housewife isn't a show I thought I would like. At all. I'm not into sitcoms and prefer more of a Sci-fi or fantasy genre for my extremely limited TV time. However, knowing I was going to meet Katy Mixon, I gave this show a shot. I stand so corrected.
American Housewife not only cracked me up but touched on so many issues I struggle with daily. Katy Mixon's character, Katie Otto is hilarious, relatable, and refreshing. The entire cast fits this show, and I have to insist you watch it. (Tuesdays on ABC at 7:30c.)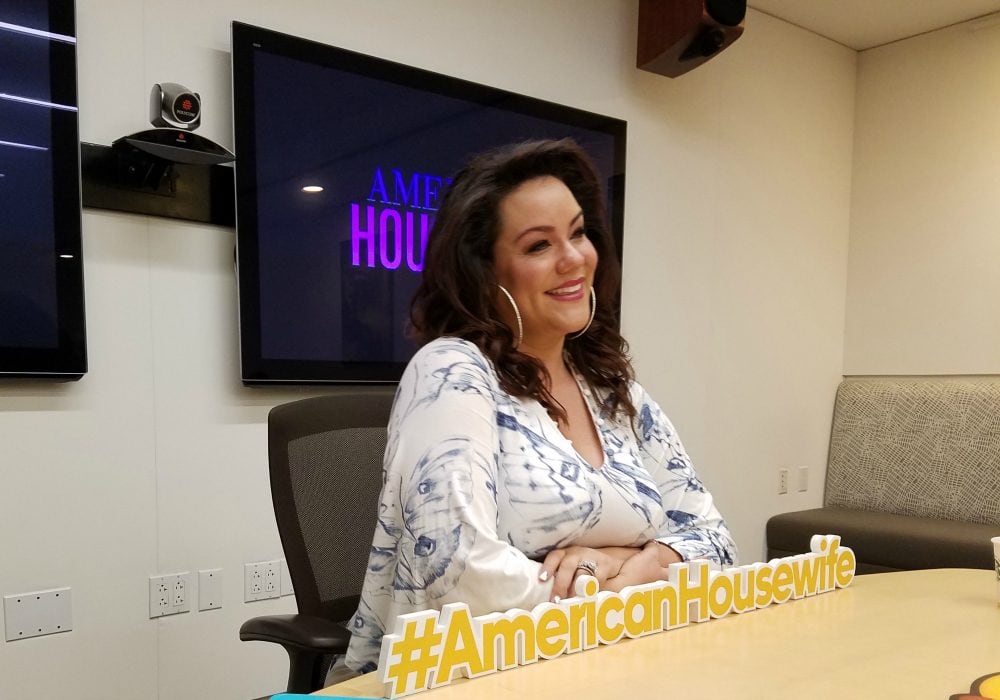 Katy Mixon Interview
First of all, this beautiful woman is ready to pop with her first baby (It's a boy!) and spent a generous amount of time and energy on us bloggers. Her southern hospitality and warmth were apparent immediately. She made sure to look at each of us 25 women in the eye and answered all our questions. She then took the time to stand on her feet so we could all take individual photos with her–with multiple poses.
Q: How do you know Katie Otto so well?
Katy Mixon: "I don't know. I don't know. I mean, it comes from the creator, Sarah Dunn. This show is her vision. And it took off with Kenny Schwartz and Rick Weiner (showrunners) and the incredible writing staff. But this was her vision, there are certain situations, not all of them but certain situations, that come from her life. And her experiences, living basically in a town, kind of in upstate New York. But Ken Schwartz who's the showrunner, he's from Westport, Connecticut, so they're taking from her whole (story). And it's been my job to recreate that. So I couldn't be more opposite from Sarah Dunn. I'm originally from Pensacola, Florida and I'm from the south, and just turned 36. I think Sarah Dunn's 43 or something like that. But I play older on the show, and everything. But it's been my job to recreate what has been her vision."
Q: So how are you like Katie Otto?
Katy Mixon: "I rock n' roll in a different way. I always have. I've always been quite fearless. I've never really let anxiety take a toll on me. And I march to the beat of my own drum, I get back up on that horse, and if I don't get it right, I'm gonna do it again the next day. That's kinda my M.O., that's kinda how I've always rocked n' rolled. Sarah Dunn's entirely different from me. Which is a beautiful thing too.
So that's what's been really interesting. When I took on this role right after Mike & Molly. Four days later I walked into this American Housewife room. What was wild was, I'm not like her. I'm not Katie Otto. I don't get mad at a green juice. If you're going to do yoga, I think that's awesome! You're bettering yourself. I love people.
I'm real spontaneous; I love celebrating people and what makes them happy. I'm just so opposite of what Katie Otto is. So it's just fun to play. I wanted to do a role that I've never done before. I don't wear hardly any makeup in that show. We cover up head to toe. I wear real baggy clothes. It just couldn't be more opposite of what I've done in the past. And I couldn't be more grateful."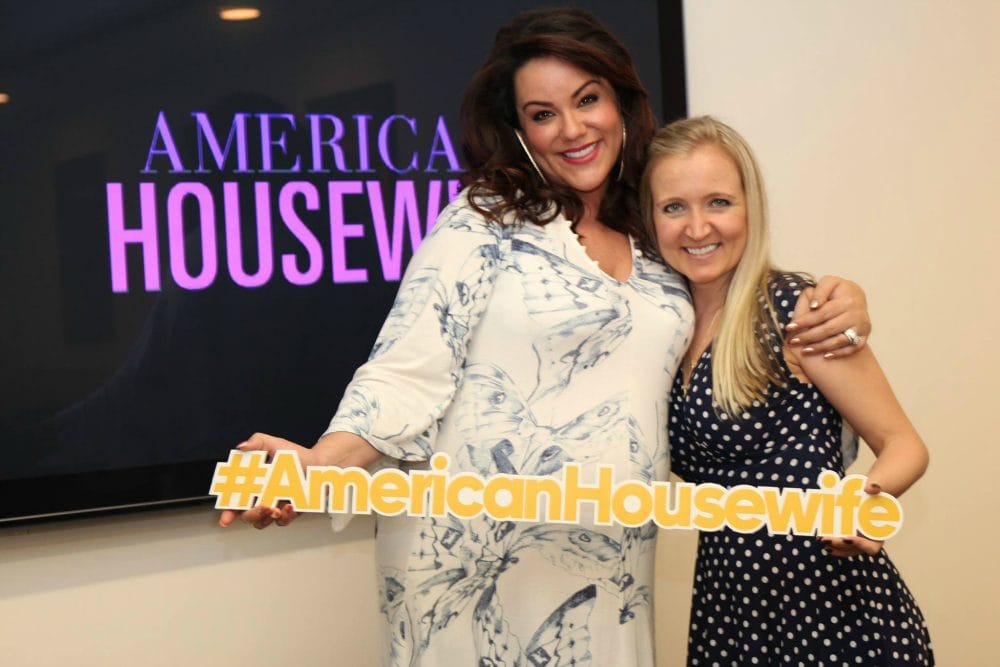 Q: Katie Otto has a favorite child, does Katie have a favorite child actor?
Katy Mixon: "Favorite child actor? No. [laughter] They're all quite special. They're all really lovely. I'm such a person of divine appointment, I believe in that. And the moment I met each one of them, I knew I was a part of something quite special. And I'll never forget, I met sweet Julia, we were doing costume fittings, it was before the pilot. And it was all crazy; nobody knew what was gonna happen. And she rounded the corner, and I was like, 'Are you my TV daughter?'
And she was like, 'Yes!' She came in and like gave me the biggest hug. So she's – yeah, it's been wonderful. All three of them."
Q: So many women feel your character is living their lives. Every single episode things have a very poignant moment. Like the one we just watched, overcoming who you are and jumping in the pool in that bathing suit. How does it feel that you are impacting moms, as they sit and watch and go, 'Yeah! She's right; I'm gonna go swimming with my kid'?
Katy Mixon: "It brings tears to my eyes. I'm so emotional; I'm so sorry. [crying] There's so many emotions. But it brings tears to my eyes, honey. I could not be more grateful, and I'm having the time of my life. First of all, be able to do what you love to do. To be given the opportunity to do what you love to do is quite incredible. It's just the biggest gift in the world. And then to have people be able to receive it, or relate to it, would be like, 'So that character, like that's totally me.' That's just the best thing in the world. So I am in a new dimension… I've never played a mom with three children. So that's been quite special. To be able to do that on camera and evoke emotion…
I'm such a big fan of the show too. It's such a mom thing. It relates so much to moms. But what was so special was, I knew in the beginning when I signed onto it, I felt like it didn't matter what gender you are and what background you come from, everybody relates to insecurity. Regardless of whether you're from Kansas, from Oregon, from Miami, or from Westport. Everybody's got their Westport, everybody's got their little, their town, their situation that they're like, I don't wanna do this today and be in front of these people. People have that, so that's been kinda my anthem on the show."
Q: Even though you and Katie Otto are very different, is there something you think you will take away now that you are going to be a mom?
Katy Mixon: "I don't really know. She's really strong. I'm really strong, you know. It's just, I just rock & roll in a different way. I love her so much, that Katie Otto. [Everyone laughs] I don't know what character trait–I think this is the thing–she's quite fearless. But I'm quite fearless too. Just doing it in a different way.
She says what her mind thinks. And I think there's power in saying what your mind [laughing] telling it how it is. I'm always like, you gotta do it in the spirit of love, that's where I come from. Not so much Katie Otto. I'm gonna just be me. I'm gonna just do me. I come from a family of nine. My mommy has six girls and one boy. And now I'm the third oldest. So I'm gonna rock and roll. Right? Yeah."
5 Reasons You'll Love Katie Otto and the Show, American Housewife
Knowing Katy Mixon is Katie Otto's opposite in real life makes the character so much more impressive. There's real, raw talent here.
We all have a little–or a lot–of Katie Otto in us. As Katy said above, we can all relate to insecurity.
Katie Otto is like having a comedian as a therapist. She addresses all the issues we have as parents, women, suburbanites, and wives pretty much head on and then leaves you laughing–which, as we all know, is the best medicine.
Katie Otto keeps it real. She says exactly what you're thinking, unapologetically. It's incredibly refreshing.
American Housewife teaches you to love yourself. Yeah, it's a comedy. Despite the lightweight feel of this show, the messages within are quite heavy. Katie Otto and her family show us how to communicate, express our flaws, and own it all as a family.
Here's a sneak peek of tonight's episode, "The Club":
Don't miss American Housewife every Tuesday on ABC at 7:30C.