Reserveage Organics Keratin Booster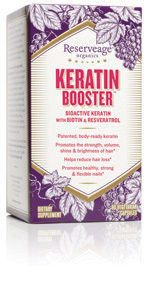 I am a big believer in taking supplements. There is no way that we all get everything we need from just food alone. In my opinion, we can all use a little extra boost in the form of supplements. Ever since I read about Resveratrol about a year ago in a health magazine, I started taking it off and on. I say "off and on" because when I run out I sometimes skip a few weeks until I restock. I always notice a difference in my "off" weeks. I seriously believe that Resveratrol effects my workouts. I seem to exercise harder when I take it faithfully. It happened to be that I purchased the Reserveage Organics brand, too. So, I was eager to try another one of their products:  Keratin Booster.
Due to years of highlights, blow-drying and just constant abuse, I have been noticing more breakage and some thinning of my hair. This is unacceptable due to the fact that I have never had thick hair to start with. I can't afford to lose any! Same goes for my nails – I can use all the help I can get with them, too.
I have only been taking this product for about two weeks, but I am already noticing some improvements. My nails seem stronger for sure. My hair is growing like a weed and appears brighter. To be fair, my hair has always grown fast, but I am pretty sure that this has added a boost! I even had it cut yesterday and my stylist commented on how long my hair was. She was shocked. I am sold and definitely going to continue to take these supplements.