This post brought to you by McCormick & Company. All opinions are 100% mine.
Everyone is so busy that a good, quick and easy meal recipe that is kid approved is priceless. I'm so happy to have partnered with McCormick to bring you this post and recipe for homemade Lasagna Formaggio.
Quick and Easy Meal Recipe
McCormick.com is a fantastic resource for quality, quick and easy recipes the whole family will enjoy. I know I am not the only overwhelmed parent out there so having access to these recipes makes life so much easier. Thanks to McCormick, homemade dinners aren't just for only for special occasions. They have taken the top 10 most searched recipes and made them quick and easy.
My kids are pretty good eaters, but my daughter can be pretty picky. She ordinarily won't go near anything with tomatoes, but she absolutely loved this Lasagna Formaggio! She actually asked for seconds and had leftovers the next day! Adam, well, he can eat his body weight in just about any food these days so he was thrilled and had THREE helpings.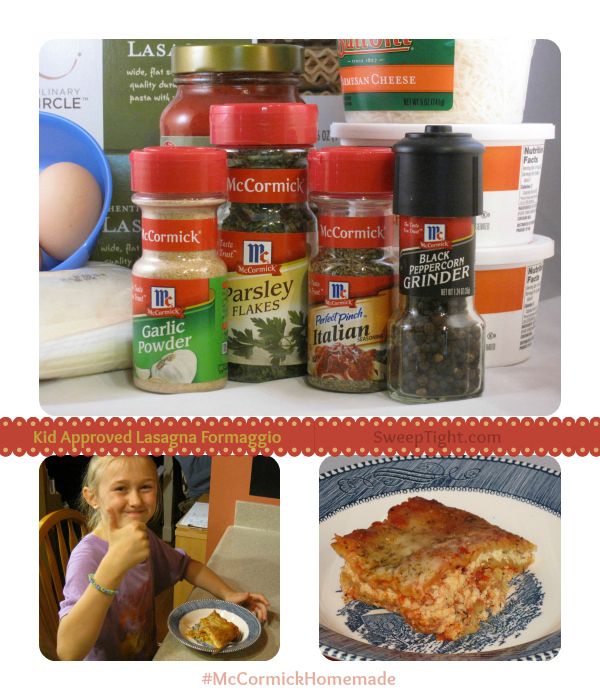 My apologies for my first Instagram video… It's titled "Lasagna Seizure" and you'll see why. I didn't realize you have to hold the button down while recording so this is basically a freaky-fast slideshow of screenshots. Haha… BUT, the recipe really is quick and easy so the video is somewhat appropriate. 🙂
Using McCormick Garlic Powder, Parsley Flakes, Black Pepper and the Perfect Pinch Italian Seasoning gave this Lasagna a classic taste. It only took 15 minutes to prepare!
"Homemade in America" Contest
Want to win this awesome McCormick Gift Set? Simply leave us a comment below telling us what your favorite McCormick spice is and you are entered to win! We will randomly select a winner on October 28th, 2013. Open to US residents only.