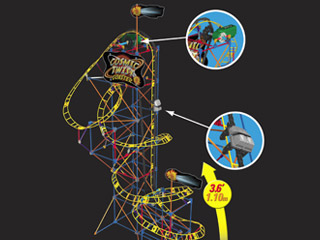 K'nex Cosmic Twist Coaster
Adam was so excited to get this, I couldn't even get a clear picture of him with it because his hands were moving so fast to get started on it! Product was received for review purposes and this post may contain affiliate links.
He's never really had a big project like this. He's always been into drawing more than building. Recently, though, he's started drawing blueprints, buildings, roller-coasters and many other architectural subjects. Being that he is ten, I figured it is time for him to learn about what it takes to make these things become three dimensional.
To my surprise, he was a bit perplexed at first. But he stuck with it and figured it out. This was a great lesson in physics and geometry! He learned a lot about the strength of triangles and momentum. From start to finish, I think this took him approximately four hours to complete. With school, gymnastics, our visitation schedule, and Grandma being diagnosed with a terrible condition, he had many interruptions. :/
We had a couple glitches at first but in the end, he got it working…
Now, he wants to take it apart and see what other designs he can come up with! 🙂