Advertising on your car just became so much fun! PowerDecal has these awesome decals that light up! Product received for review.
Light Up Car Decals
As a busy human, (I won't get into detail as to what makes me busier than anyone else… everyone has a lot going on), I drive all over the place. That being said, my car is like my own personal billboard. So, when I first discovered PowerDecal, I knew I just had to have one of these custom made for Sweep Tight!
First, I'd like say that these people are awesome to work with! And, it turns out they are based like 45 minutes away from us! Such a funny coincidence since I originally found them on Twitter.
Anyhow, they worked with me going back-and-forth (I was such a pain because I kept changing my mind) until we had exactly what I was looking for.
Pictured below on the left is the PowerDecal in off mode. And on the right is what it looks like when it's on.

This car decal is run by three AA batteries which are included with purchase. This light-up sticker is motion activated so they won't drain quickly either.
As I'm writing this review, my neighbor dropped off her daughter for a sleepover and after she left I get call with her saying "Now, that's cool!" To which I reply, "What's cool?"
As she walked by my car to leave, the PowerDecal came on. She immediately called me to ask where I got it. 🙂 So, this is great while driving and while parked!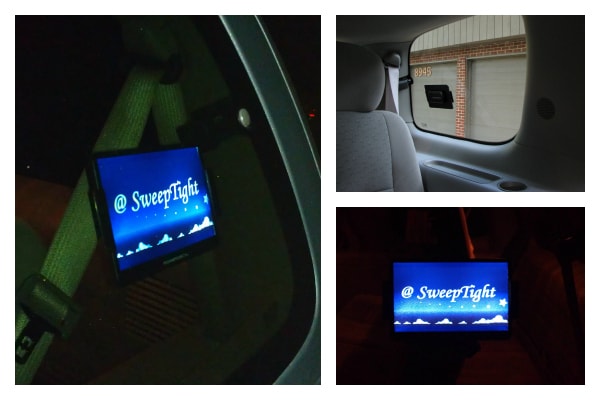 Now, these are definitely great for your business for obvious reasons, but they're also fun if you don't have your own business. PowerDecal has hundreds, if not thousands, of sports designs, logos, flags and symbols to choose from. The discs inside the unit are interchangeable so you can switch them up depending on the season or mood you're in!
They are super easy to install. You just clean the area on your window (a wipe is included) and adhere the unit. No tools required!
Whether you're a die hard sports nut, or just want to flaunt your evil attitude, they have something for everyone. Take bumper stickers to a whole new level!