With us being such gadget freaks in this house, we need a powerful router that can keep up with us. This router showed up at the perfect time because we had been experiencing a lot of issues ever since Mike started playing his Playstation games online. With us both having laptops, an iPad, the Wii and now the PS3 all drawing from the same router, it seems as though it was just too much. Something was always being disconnected. Not anymore!
Thanks to this new Linksys E4200 Maximum Performance Dual-Band N Router, we are cruising along happily! Product was received for review purposes and this post may contain affiliate links.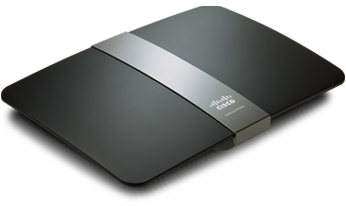 Linksys E4200 Maximum Performance Dual-Band N Router
Here are the features of this router and why we find them so useful:
Maximum wireless speed: The Linksys E4200 offers ultra fast speed to connect your computers, Internet-ready TVs, game consoles, and other Wi-Fi devices at transfer rates up to 300 + 450 Mbps speed for a premium home network experience.
Like I said above, we have a lot of gadgets that require wireless internet and we see an HUGE improvement compared to our old router. This has saved us hours of time resetting and restarting modems and routers. Our old one was causing us a lot of headaches. We also notice that everything seems quicker.
Superior wireless coverage: Built with leading 802.11n wireless technology, the Linksys E4200 offers maximum range to create a powerful wireless network. Full 3×3 MIMO antenna array boosts signal strength to provide exceptional coverage and reliability so you can enjoy your wireless network from anywhere in your home.
Okay, I gave this the perfect test, too! With our old router I could never take my laptop out onto our deck. I love to sit out in the sun and still be able to work on my blog. Well, before that was just too far from the house. Not now! I can go to the farthest section of our yard and still get great service. Since it is now summer, I am really loving that feature!
The power of dual-band:  Double your network bandwidth with dual-band N (2.4 and 5 GHz) designed to avoid interference and maximize throughput for smoother and faster HD video streaming, file transfers, and wireless gaming.
I honestly don't fully know what this means, but I am assuming this is what is making Mike extremely happy when he is playing Black Ops! Before I would hear him cursing all the time because he would always lose connection. Haven't heard that since we started using this router. Huge bonus!
SpeedBoost:  Higher quality antenna technology helps to maintain high speeds across greater distances throughout your home for maximum wireless coverage and in-home mobility.
Again, we definitely notice greater speed. Even from the yard!
Advanced security:  Keep Wi-Fi freeloaders and Internet threats at bay with WPA/WPA2 encryption and SPI firewall to help keep your network protected.
Definitely need this. We don't need anyone creeping into our internet, thank you!
Benefits of Gigabit:  Use the four Gigabit Ethernet (10/100/1000) ports for quick file sharing, 10x faster than standard Ethernet, between other Gigabit-enabled devices like computers, hard drives, and servers.
Perfect for us having our own computers. Now we can share better without slowing each other down!
Built-in USP port and UPnP media server:  The USB port lets you add a range of USB storage devices such as flash drives and external hard drives to share files at home or over the Internet for greater access to more information. The built-in UPnP AV Media Server enables seamless streaming of your video and media files to an Xbox 360, PS3, or other UPnP compatible device.
We have not had to use this feature yet, but what a great one it is! This way if I need to take a flash drive from work, I can now download the contents quickly and easily onto any of my devices.
Home theater ready: Bring the ultimate entertainment experience to your home by connecting computers, Internet-ready TVs, game consoles, media players and more to your wireless network and the Internet. QoS traffic prioritization technology designed to deliver your time-sensitive Internet traffic efficiently so you can enjoy fast downloads, smooth video and music streaming, and gaming and VoIP.
Yikes, ever try and watch a movie on your computer? That can be a disaster. Not with this powerhouse of a router! Seamless delivery makes for a very satisfying video-watching experience. I am finding myself more addicted to YouTube now that it requires less patience on my part. I have noticed any music downloads that I purchased are slightly quicker, as well.
Quick to install:  Cisco Connect software helps you set up your home wireless network in three easy steps.
Amen for this! I was a little afraid to install this myself, but I insisted on doing it for review purposes. What a breeze. With the CD walking me through the whole process, it was super easy and my worrying was for nothing.
Easy to manage:  Cisco Connect software helps you customize your settings, and quickly add multiple devices to your network:
Create a separate, password protected network for guests
Limit access time and websites with Parental Controls
Access advanced network settings easily
This is perfect for anyone that comes over and wants to tap into our wireless. We don't have to give them our main password. We can just give them their own for the time that they are here. Also handy for parents that would like to control what their kids are doing online. If you don't want them messing around on Facebook in the middle of the night, just limit the access time. Just another fantastic feature!
Well, needless to say I am extremely pleased and impressed with this piece of equipment. It has saved us time, energy and aggravation from connection issues. All our gadgets are now operating quickly and efficiently and no longer crowding each other out.
I would say this would be a PERFECT gift for any techy Dad for Father's day!!!