Little Pnuts offers special delivery boxes for children. The boxes feature the best in sustainably made, ecologically friendly, organic and natural made toys. I was so excited to receive one of their Special Delivery boxes in exchange for my review.
Little Pnuts Special Delivery Boxes
The creator of Little Pnuts boxes came up with the idea a couple years ago when she was struggling to find safe toys for her little boy. He was born prematurely and needed toys that would help him with gross and fine motor skills, hand-eye coordination and concentration. She found amazing toys, but with a hitch, they were all from other countries and hard to get here in the United States. Much thanks to her hard work and the Little Pnuts boxes, you can now get a delivery of these great toys to your door each quarter (March, June, September and December).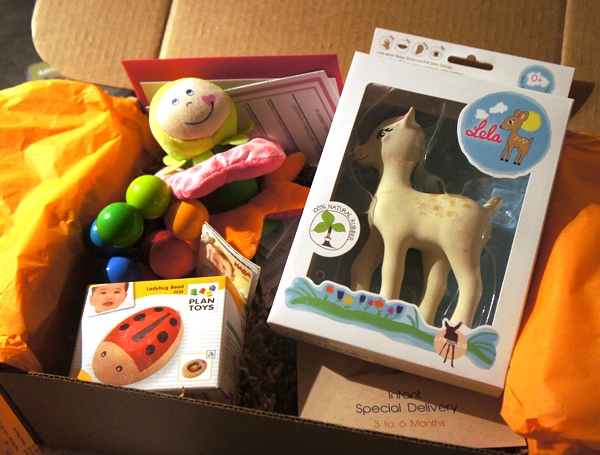 My special delivery came with four developmentally appropriate toys for 3-6 month olds. Lela the Deer is a 100% natural rubber teether. Lela is made with food grade dye, BPA free and safe for little ones to put in their mouths. A Plan Toys Ladybug has rainbow colored beads on the underside. The ladybug is made of chemical free, kiln dried, recycled rubberwood and painted with water based non-toxic colors. My favorite is a HABA Magica Rattle that has colorful wooden balls connected with elastic. They fit together in a shape that is easy to manipulate and fun to play with.
You can subscribe to Little Pnuts boxes for $25 a month or $240 a year. The toys will grow developmentally with your child, and the quarterly deliveries allow children to learn and grow with the toys, reaching new developmental milestones with each box. No matter the age, from birth until 5 years old, there are toys for each stage of development.
Little Pnuts are great gifts, they keep on giving all year! Visit Little Pnuts to Join Now.