How many times do you have to suffer with cracked screens on your beloved devices before you'll learn? Or freak out on your should be stress free vacation because your luggage is lost? Or panic because someone bumped your rental car with a grocery cart? Thanks to Protect Your Bubble, a stress free life is just a small bundled payment a month to let you live like the rich and famous.
Stress Free Lifestyle
As a single mom/full time student, I tend to lose my mind when the smallest little life hiccups occur. I am struggling to keep up with the milk demand in this household. I simply cannot afford a shattered soul–I mean, screen right now. Did I mention, I'm a little stressed out?
Because of this, I live in fear and am afraid I am teaching my children some serious obsessive compulsive habits. I put so much effort into preventing ordinary life accidents, I am pretty sure I am preventing most of the fun in life. Despite all my efforts, life's sadistic sense of humor prevails anyway.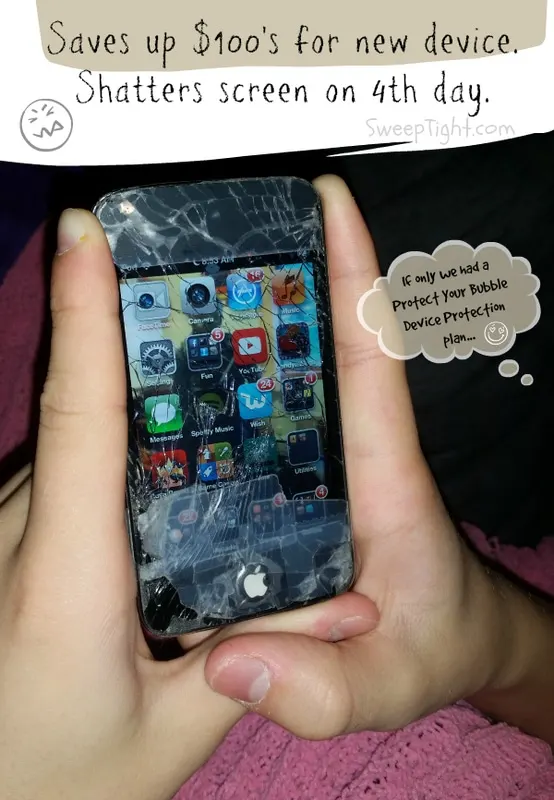 After helping my son save up hundreds of dollars for the new iPod touch he wanted, I think I told him a dozen times a day to make sure he didn't drop it. What happened on day 4? Naturally, he shattered the screen. He was so horrified–more for my reaction, than the fact that his precious device was damaged.
Now, I realize that broken devices and scratched vehicles are fixable things. But my poor son's spirit? Well, shame on me. Life happens. I'm not saying to live like a careless and reckless fool, but wouldn't it be nice to not feel like you have to stress the small stuff all the time?
With Protect Your Bubble device protection plans (terms and conditions may apply,) I can let go of some of my obnoxious controlling personality and just enjoy life.
For just a small monthly fee, one plan covers all your devices from the truly laughable ability of life to challenge your sanity. Drop your phone in the toilet? Ugh, done that. Dent a rental car? Yep, that too. Your luggage end up in a different location than you? Been there.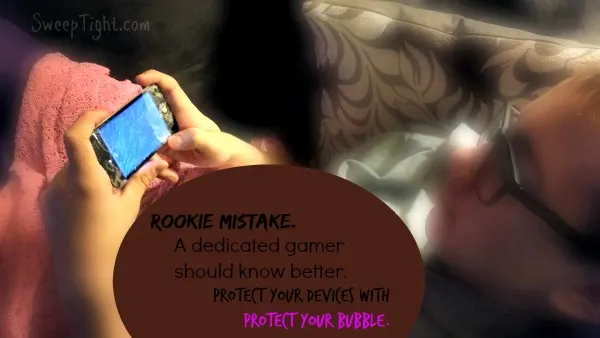 Instead of letting situations like this get the best of you, you can laugh it off like a celebrity knowing that a simple phone call will solve all your problems.
Protect Your Bubble offers affordable plans that fit your lifestyle, one-call claim resolution, and next day replacement for phones and tablets! (Terms and conditions may apply.)
Take it from a spaz like me, this kind of reassurance is priceless!
Protect Your Bubble makes it easy to protect the things that matter most to you, with easy to use services, to personal care when you need it most. Visit ProtectYourBubble.com to learn more and protect what matters most to you!
This is a sponsored conversation written by me on behalf of Protect Your Bubble. The opinions and text are all mine.