Food is something we all love, right? I know we like to try new food all the time, but sometimes we want to sample it first. Love with Food is a new subscription program where they will send you a box of goodies each month with new products for you to try out. It's a way to have delicious snacks delivered to your doorstep each month! Product received for review. Post contains affiliate links.
Shelley and I had a chance to meet the Love with Food folks at BlogHer12. They were so nice and very excited about their product. We both left their expo booth pumped about the service. It also helped that we had a few delicious samples to try in our swag bag!
I received an August box from Love with Food. It contained a variety of treats from cookies to pretzels. Each item appeared to be gourmet and high quality. No skimpy treats here! Just fine items from top companies. After you try out the products, you can purchase the full-sized packages from their website at a discount. This is only if you choose to, there's no pressure to do so.
New Food Each Month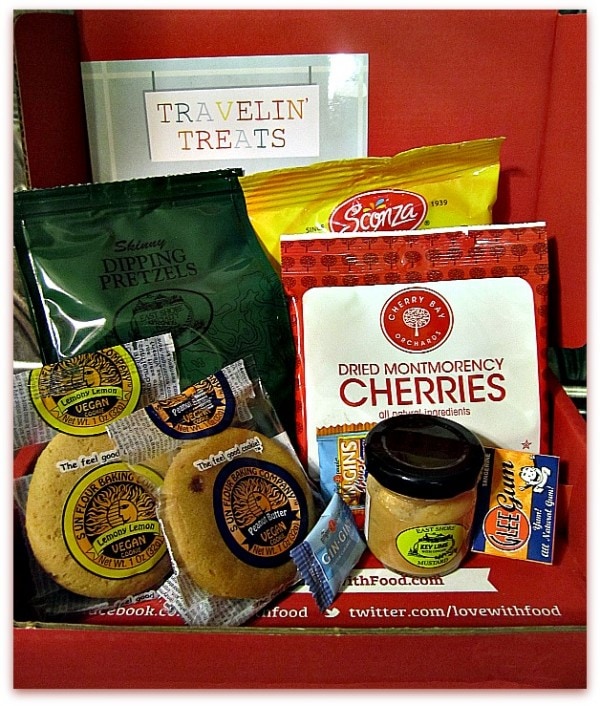 Subscriptions for monthly Love with Food boxes can be purchased for as low as $10 per month. Plus, Love with Food donates a meal to a food bank for every purchase made!!! That's amazing! There's more… you can earn rewards to redeem for free food, too!
I am loving this whole concept. This is an affordable way to have fun, yummy food delivered each month (like a monthly present!), and you get to help people in need. Sign me up. Love with Food is a great gift idea, too!