Show your pets some love this Valentine's day with the adorable Luv-A-Pet collection from PetSmart. These Valentine's Day themed toys will warm your little furry friend's hearts. Purchases will also help homeless pets in the US and Canada, since PetSmart will donate 10% of all sales to PetSmart Charities. What a great way to give back while making everyone happy!
Love Your Pet with Toys from PetSmart
Valentine's Day is for all of our loved ones, so pets should be included in that. After all, these little creatures show us nothing but unconditional love. They deserve to be spoiled and showered with attention. I have talked about my dogs many times on this blog. They are the joy in this household. They adore their toys and get so excited to get new ones.
PetSmart sent us a few of their Luv-A-Pet collection and they are the cutest. Both dogs instantly flipped out over them. Of course, the Grump tried to hoard them all and wouldn't share with Hilo. You can see him laying on the one toy while playing with the other. Talk about spoiled!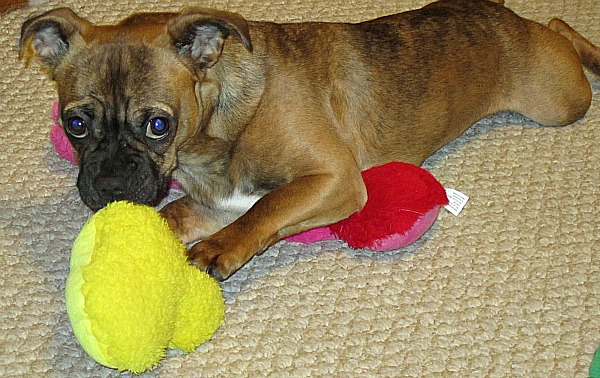 As sweet as his little face looks, he is also a vicious killer. After he plays with his toys for a while, he flips a switch and goes into beast-mode. No toy is safe as he enters into a shredding-frenzy. Thankfully, the toys we have gotten from PetSmart are pretty durable. They seem to last a lot longer than any other brand we have had in the past. They are also more affordable, which is great for when it comes time to replace them.
Help Homeless Pets
As I mentioned above, PetSmart now has PetSmart Charities to help animals in need. I love to donate to animal charities whenever I can. Knowing that some of my purchase goes toward helping is an extra bonus. Makes me love shopping there even more! Make sure to grab some toys by either shopping at your local PetSmart or at PetSmart.com.