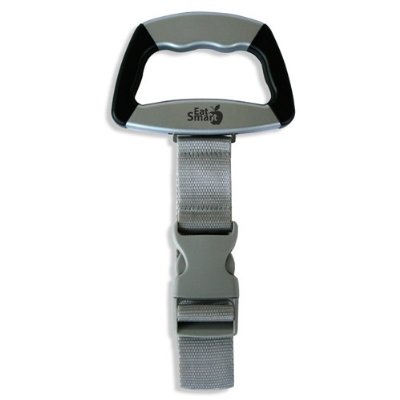 Eat Smart Precision Voyager Digital Luggage Scale with 110 lb. Capacity and Smart Grip
Recently it seems I've become quite a frequent traveler. Being that I am somewhat new to this, I tend to pack like a total spaz. I pack things I haven't worn in a year thinking that maybe they'll look good in a different country. I'm an idiot. Product was received for review purposes and this post may contain affiliate links.
My boyfriend and I are about to go backpacking through Hawaii. Backpacking. I cannot describe how excited I am to experience this paradise! However, the thought of having to pack everything I'll need for 8 days into ONE BACKPACK causes minor panic attacks throughout the days coming up to our departure. (October 23!!!!!!)
Every square inch and ounce is completely priceless. The planning that is going into this is extensive. This luggage scale is coming in quite handy to figure out how heavy my pack will be! Not just for the flight restrictions (we all know they charge an arm and a leg if you go over their weight limit,) but also for each item I'm debating on bringing! I don't want to be the whiner in paradise!
Just for fun, I figured I'd weigh my purse. Oh my gosh… it weighs 13.7 pounds! It's no wonder I am constantly suffering from tension headaches! I think it's time to dump the coins out of the bottom and re-evaluate just what I need to be carrying. I guess I don't need the bottle of water, too-big-for-travel bottle of hand sanitizer and key chain bundle the size of a canteloupe… :/
This luggage scale is pretty addicting! My kids are now weighing their backpacks before school and having contests with who has heavier homework! My son is now actually remembering to bring his stuff home!!! 🙂
For home, and before and during travel this is scale is great! It's durable and small enough to take with! Now you will know exactly how many souvenirs you can take home without going over the weight limit!