Product was received for review purposes and this post may contain affiliate links.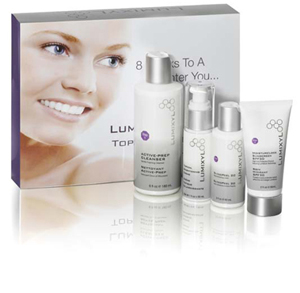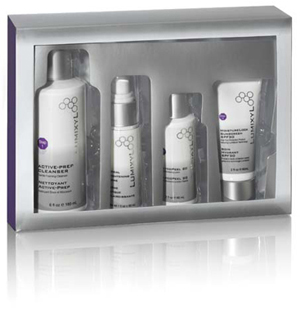 Being a sun-worshiper my entire life has really done a number on my skin. I see evidence of the damage more and more as I get older. I now find myself trying to undo a lot of the skin darkening and unevenness of my skin tone.
One of the first things I noticed about this system is that the bottles are clearly marked with the steps. Each one says the proper step number and AM or PM depending on when it should be used. This simple feature really helps out a lot. It's easy to forget the proper procedure when you are half asleep hurrying to get ready for work in the morning!
Step one is the Active-Prep Cleanser. It is a light gel that gently washes away dirt and oil. I like the texture and the fresh scent. Leaves my skin feeling clean, awake and a little tighter.
Step two is the Lumixyl Topical Brightening Creme to be used morning and night. This is the formula that is responsible for diminishing the appearance of hyperpigmentation. It's a lightweight lotion that absorbs quickly. A little goes a long way so you don't need to use too much at all. I like that it can be combined with some of the other products I am using for my breakouts.
Step three is the GlycoPeel 20 Rapid Exfoliating Lotion. Personally, I have found the best results with any skin care regimen when there is an exfoliater included. My skin definitely requires the extra help with cellular turnover. After using this, I also notice my pores look smaller. It gives my face a "clean slate" feeling.
The fourth and final step is the MoistureLock Sunscreen SPF 30. Finally a set that includes the sunscreen that they insist on using! So many skin care systems that I have used stress how important it is to apply sunscreen and yet they do not supply one. You are on your own to decide what to use. So, I appreciate that they have incorporated one into this set. As long as I make sure to apply a super thin layer, it feels light enough on my face to follow up with my normal makeup routine.
After using all of these Lumixyl  products for about two weeks, I am noticing some benefits. My skin appears brighter overall and there are a couple spots in particular that are definitely getting lighter. My pores feel tighter and my face looks clearer in general. I have not experienced any irritation at all. The system is very easy to use and has seamlessly fit into my daily routine! I am excited to keep reaping the benefits of these products!