Anything "on-the-go" is usually a win in my book. While tuna can easily be "on the go" – it just got even easier with Chicken of the Sea To Go Cups. I received a sample of the new product so I could tell you all about the new product offering from Chicken of the Sea.
Chicken of the Sea Tuna To Go Cups
When getting ready in the morning, I never manage to make time to make my lunch, so either I have to remember it the night before, find an assortment of snacky items to throw in a lunch bag, or go out for lunch. Going out uses up my monthly food budget quite quickly – and the snacky items NEVER last me – so these To Go Cups from Chicken of the Sea are an easy solution. You can throw these in your own lunch or your children's lunch box in the morning and it makes lunch prep so much easier.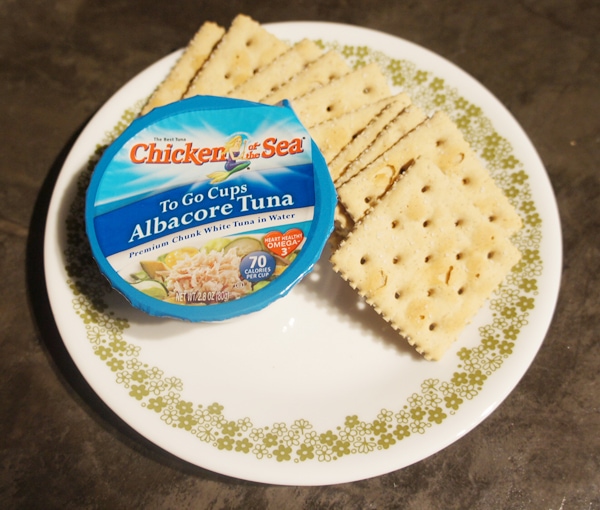 The Chicken of the Sea To Go Cups come in four variations including Chunk Light Tuna, Albacore Tuna, Tuna Salad, and Pink Salmon. They are ready to eat – and don't require draining (yay – I hate that part!) and only have 70-80 calories each. Chicken of the Sea suggests pairing them with crackers or cucumbers (healthy and it still sounds yummy!).
This morning I grabbed a To Go Cup of the Albacore Tuna, a pack of whole wheat crackers and an apple to have at lunch. It was so easy to throw together and a super healthy lunch (much better than the fast food I had yesterday because I was too lazy to pack a lunch)!
You can find the new To Go Cups anywhere you can find Chicken of the Sea – find out more about them from Chicken of the Sea. They have tons of fun recipes on their website with tuna in them – making many meals so much healthier. One lucky Sweep Tight reader can enter to win a prize pack from Chicken of the Sea including a back pack and a sampling of the To Go Cups.