I love new books. Reading adult books, I am not likely to read and re-read favorite books. However, I know with kids on the way, we are guaranteed to hear the same stories over and over again. I am so thankful for new and creative stories from Scholastic so I do not have to listen to the same stories told over and over again quite as often. I received a selection of books from Scholastic's Holiday Gift Book Guide for my review.
Make Reading Fun with New Books
While waiting for our referral (we are adopting our first child internationally), my husband and I have really gotten into children's books. We want to make sure we enjoy the story just as much as our little one, and more importantly, we want to make sure it is not something we will quickly be annoyed by. We received three new Christmas themed stories from Scholastic. While it was a remake of sorts, Cinders: A Chicken Cinderella by Jan Brett was a funny retelling of the Cinderella story. Santa Claus and the Three Bears by Maria Modugno is a fun twist on Goldilocks and the Three Bears, except of course Santa is the intruder in this new retelling. Pete the Cat actually has a series of books created by James Dean. In Pete the Cat Saves Christmas, Santa is under the weather and is unable to deliver gifts, but Pete the cat comes to the rescue!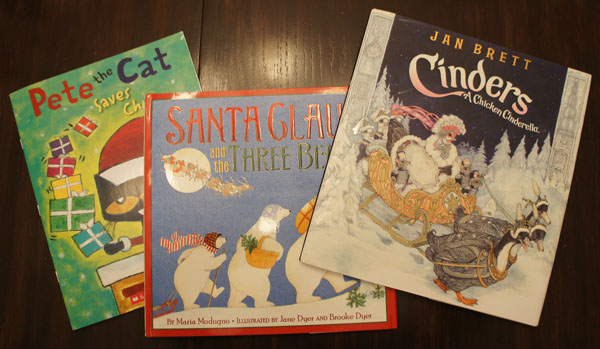 I always loved the Scholastic book fairs at my school growing up. Seeing the carts full of new books to try to convince my parents to buy me was an important part of the school year! Scholastic does great things in partnership with schools all over the United States. Make sure to check out their blog to find out about all the new books coming your way (and reviews, suggestions, and best of lists to help you find something new – or old – to read!).