I am happy to bring you this Mamma Chia Seed Drink review and giveaway sponsored by Mamma Chia. I received product samples to facilitate my review. All thoughts and opinions are my own.
Mamma Chia Seed Drink and Chia Squeeze Snacks
First of all, YUM. The flavors are fantastic. I don't even know how to pick a favorite. When I asked my daughter, she even said, "I don't know, I like them all."
The texture is unique and if you have a "thing" about food textures, you may not love the Chia Seed Drink. When I gave them to my friends at school–we are all studying nutrition science so they were thrilled to have a healthy treat–they were surprised by the texture at first. It's like a watered down jelly with soft beads. I can't think of any other way to describe it but it's not gross at all. Personally I love it.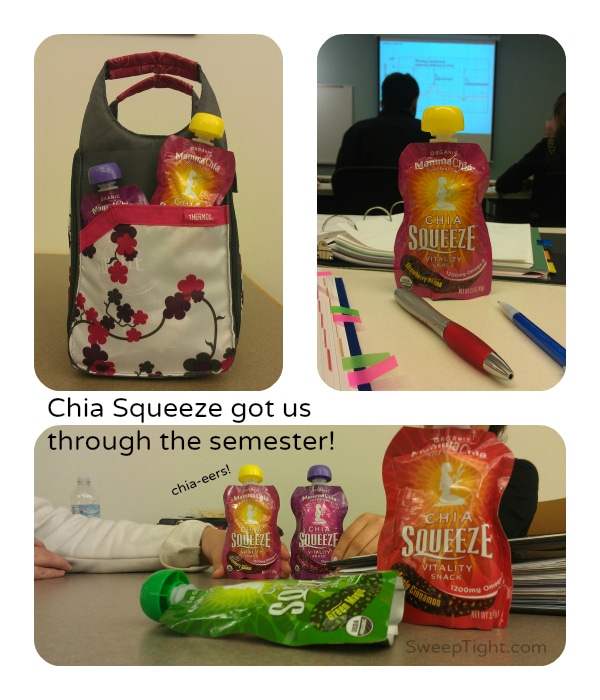 The best was when I had a cold, I threw one of the Squeeze snacks in the freezer for about 20 minutes and it was heaven. My sore throat was gone. Plus, it was delicious! And with 1200mg of Omega-3, a good source of fiber and only 70 calories per pouch, you really can't go wrong. There's not just chia seeds in there either! There are fruits and vegetables too! My kids treat these like candy and this is exactly what is going in their stockings this holiday in place sugary treats!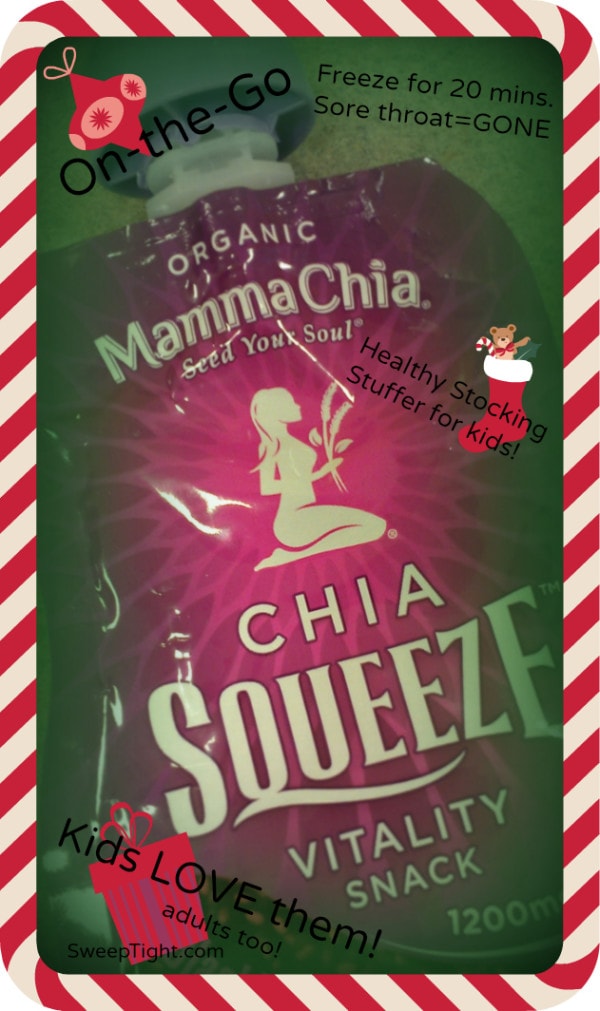 A little on Chia from the Mamma Chia Website:
Chia seeds come from the desert plant Salvia hispanica, a member of the mint family that grows in North, Central and South America. Consumed as early as 3,000 B.C., chia seeds were eaten as a grain, mixed with water, ground into flour, mixed into medicines, and pressed for omega-3 oil.
I also received VIP coupons for free the full size Mamma Chia Seed Drink. (These are perishable and glass is too much a hassle to ship so the coupons are perfect.)  Plus, my local grocery store (just a regular one, not a health food specialty store) is now carrying them! And what a variety of flavors! Raspberry Passion, Guava Mamma and Cherry Lime are probably my top 3 faves.