Planning for the health of yourself and your family is difficult. It's hard to anticipate what will happen but having a plan is a great start.
Understand Your Health Plan

Thanks to Cigna, we now have a chance to understand and plan accordingly for our health and make the most out of our plans. Cigna offers great tips to help us stay organized and plan for the year's health issues—financially, mentally and physically. They suggest these Mid-Year Health Check-in Tips:
PLAN. Spend one night reviewing your healthcare expenses. Know what you have spent to-date and think about what your future costs may be. For example, will anyone need glasses or braces next year? Knowing what your current spending habits are and what your future costs may be can help you budget accordingly.
PREPARE. Be ready for unexpected health events.

Know where the nearest urgent care facility is. These facilities provide the same quality of care for non-emergent conditions as an ER, but have shorter wait times and are typically less expensive.
Check your health plan to see if they offer a 24/7 nurse hotline to provide you with health-related advice around the clock.
Keep the phone number handy for your local pharmacy. Prescriptions can be called in quickly, right from the doctor's office, saving time.

PREVENT. Visit your doctor each year for a checkup—make the appointment on a memorable day so you remember each year to go! Also, take advantage of the free services offered, such as access to dieticians and nurses, who can answer questions and provide advice.

Join the conversation here for more information.
I cannot tell you how priceless it is knowing where the nearest urgent care is located. Unfortunately, we've been there quite a few times. In fact, we were just there this last weekend! My daughter, Chesney, fell off a golf cart and broke her right humerus. The hospital was an hour (or more with traffic at that hour) away. But, the urgent care facility was only fifteen minutes from where we were. We got over there as quickly as possible. She had her x-rays done within the hour and had already seen the physician. The best part is, they are in constant contact with the main hospital so they are double-checking everything. She was such a brave little patient! They set up an appointment for us with a pediatric orthopedic specialist and we were on our way.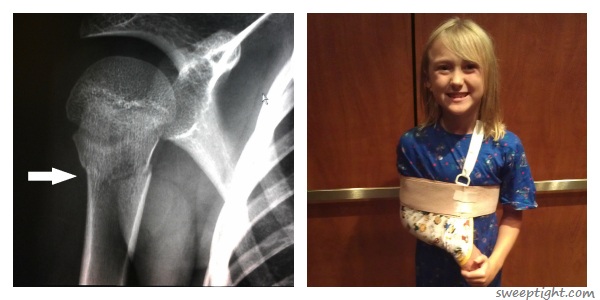 After seeing the specialist, we were given a new sling and told to keep her out of P.E. for 6 weeks. She'll have follow up x-rays in 4 weeks to make sure everything is healing correctly.
It's not always possible to be prepared for everything, especially when you have little ones that play hard. But, you can do your best by knowing what is available to you in your area. I like to keep a copy of all our insurance cards and important information in my car in case I'm ever without my purse. This is a huge help because my wallet is usually the last thing I'm worried about when my baby is hurt!
Disclosure: I participated in a campaign on behalf of Mom Central Consulting on behalf of Cigna. I received a promotional item as a thank-you for participating.