Marvel's Ant-Man is making its way to theaters, and to get us all revved up for this newest installment into the Marvel cinematic universe, Marvel has released a new poster. It's pretty sweet.
Marvel's Ant-Man is Finally Getting Props
It's about time Ant-Man got a movie. Sure, his super power is shrinking while growing in strength, but if a movie can be made about a kid who ages in reverse, a movie can certainly be made about one of the founding members of the Avengers. So, thank you, Marvel, for hooking us up!
I'm really excited about Marvel's Ant-Man. For one thing, he will most likely make his way to The Avengers at some point. I mean, what's the point of making a movie about one of the founders of the super group if not to include him in it at some point. And don't worry that they'll end up with too many members. The great thing about The Avengers is that they have a ton of members, and they're not always on the same mission. So we might see an uber team or just a reworked one.
For another thing, can you imagine how many scenes could be thought up for a character who can shrink?! I'm talking base infiltration. I'm talking getting inside a villain and the destroying him from the inside out. And let's not forget that an offshoot of the Ant-Man technology is Giant Man! Who the heck knows what wonders await us in the future?! Marvel, if you need me for ideas, I'm here.
I have to say, I was dubious when I heard that Paul Rudd was going to play this iconic role. Don't get me wrong. I love Paul Rudd, but when I think of him, I think of comedy, not action and suspense. I have to say, though, in this new poster, Paul Rudd does and excellent job of looking serious in his head shot, and the suit is just AWESOME.
Without Further Ado, Marvel's Ant-Man Poster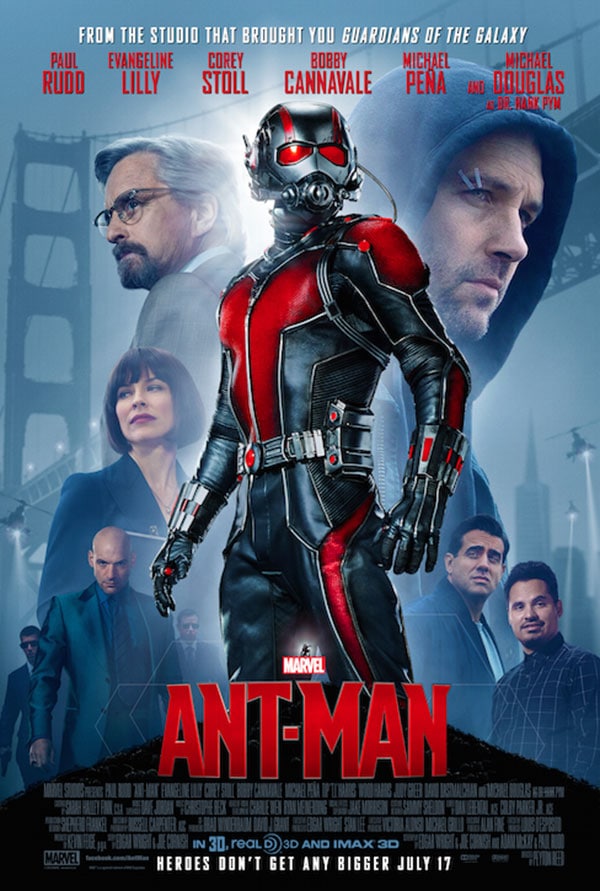 Huh? Huh?! Pretty sweet, right? I'm stoked. Every time I think Marvel has fulfilled every childhood dream I've ever had, they do something that makes me so glad I've been a True Believer since I was a kid. I love you, Marvel. There. I said it. But you've always known, haven't you, Marvel? You've always known…
With a story revolving around one of the original Avengers, a powerhouse cast like Paul Rudd, Evangeline Lilly, and Michael Douglas, Mavel's Ant-Man looks to be yet another big time block buster, and I for one can't wait to see the pint-sized power of Ant-Man! Marvel's Ant-Man opens in theaters everywhere July 17th. It's going to be MARVELous.