Marvel's Thor Ragnarok is getting a ton of buzz, and it's no wonder. I mean, have you SEEN the trailers? Totally. Awesome. In addition to being what looks like a great movie, Marvel's Thor Ragnarok is something else, as well. It's the gateway to science, technology, engineering, and math. The Superpower of STEM Challenge wants to inspire girls aged 15 – 18 in grades 10 -12 to channel their own superpowers as they relate to STEM.
Marvel's Thor Ragnarok is the Perfect Way to Promote STEM
For those of you who may not know, Thor's home, Asgard, is actually more science than magic. In fact, Stan Lee designed Asgard as a technologically advanced world so far beyond mankind's current technology that it only appeared to be magic. That makes it the perfect backdrop to promote STEM. Thor's world is an exciting one filled with all kinds of wonders, so it only makes sense to use it as inspiration for our young women coming up.
Through the Superpower of STEM Challenge, girls are offered the opportunity to win a trip to the world premiere of Marvel's Thor Ragnarok, as well as an immersive three-day mentorship in New York City with Disney Imagineering, the opportunity to appear on Good Morning America, and more. Take a look at this video with Kate Blanchett for all the deets.
NO PURCHASE NECESSARY. Ends at 6:00PM PT on September 23, 2017. Open only to girls between the ages of 15 and 18, in grades 10 – 12, as of August 23, 2017, who are legal residents and physically living in the 50 United States or the District of Columbia. Limit 1 entry per person. Winners must be able to travel on or about October 8, 2017 through October 11, 2017. See Official Rules at www. marvelstudiosstemchallenge.com for full eligibility and entry requirements, prize description, conditions, and limitations. Void where prohibited. The official contest sponsor is Walt Disney Studios Motion Pictures.
Marvel's Thor Ragnarok Superpower of Stem Challenge is Just What We Need
The world is changing rapidly. Technology is making bigger leaps and bounds every day. Somewhere out there, a young girl is going to be the future discoverer of something huge. Somewhere out there is a girl who might find the cure to cancer. Who knows what these girls can achieve? No one does, but one thing we do know for sure is that the Superpower of STEM Challenge will help inspire our young women to do something truly miraculous in the STEM world.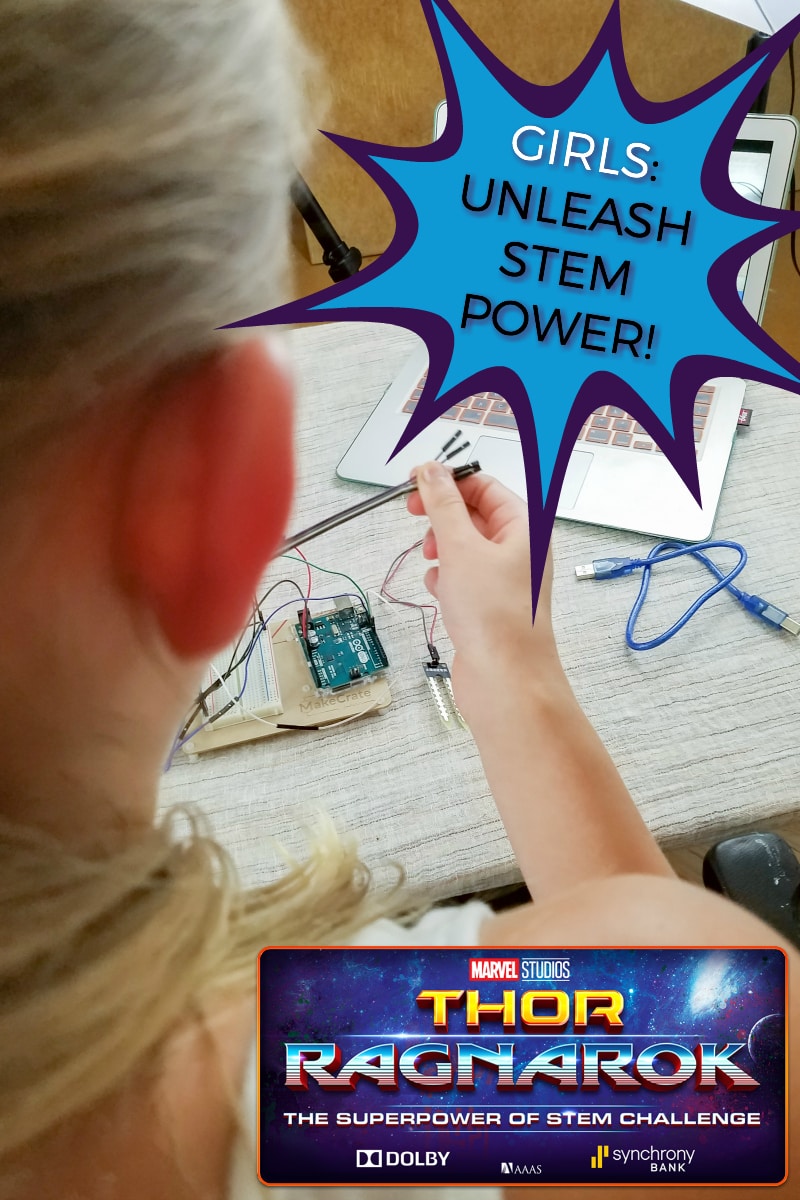 If your girls aren't in the age bracket for this challenge yet, have you thought to teach STEM at home? It's easy with all the prepackaged projects out there available for subscription. It's never too early or late to strengthen their minds.
Thor: Ragnarok in Theaters November 3rd!
Mark your calendars, plan your themed parties, and get your tickets at Fandango.com! No one should miss this movie.
See also: What to buy with 100 dollars or less for Thor fans