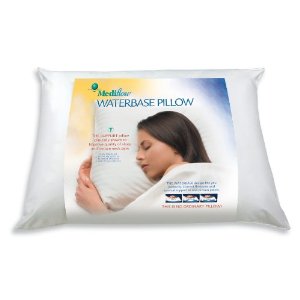 Mediflow Waterbase Fiber Pillow
My mom was just diagnosed with Spinal Stenosis. This is a condition caused most likely from a whiplash injury earlier in her life. The fact that she is a woman, menopausal, and over 50 are all also contributors. Product was received for review purposes and this post may contain affiliate links.
Basically, her spinal canal is narrowing around her spinal chord at the neck. She is in excruciating pain and totally unable to sleep laying down. When I heard about this pillow, I was immediately intrigued. We even saw advertisements for this while we were in the waiting room at her doctor's office–and that was just her primary doctor, not even a specialist.
The importance of sleep is so immense and deep, I don't feel anyone is really able to cover all of it's value. When you sleep, your body goes through so many regenerative processes that without it, life is unlivable. So, I am not surprised to see ads for the Mediflow Waterbase Fiber Pillow in a General Physicians office.
As a migraine sufferer myself, I tried this pillow out first. It took a couple adjustments in the water level to get the desired firmness, but once I figured it out–WOW. I was blown away with how comfortable my entire body felt. I have this hideous knot in my right upper shoulder where I carry all my stress (this is what causes my migraines) and as soon as I layed on this pillow, I knew I was in for a relaxing night's sleep.
Sure enough, I awoke the next morning feeling like jello. (This is a good thing.)  Quite often I wake up tense and unrested; as if I didn't sleep at all.
After I tested this pillow out for it's awesomeness, I passed it along to my mom. She hasn't been able to lay down in any position for weeks. Anyone that has had to sleep sitting up knows how miserable that is. Like me, it took a couple attempts with the water level to get it just right. But…
SHE SLEPT LYING DOWN!!!! This seems like something so simple, but don't take it for granted! If she can just get enough rest, perhaps she will start down the road to recovery! She may still need surgery, but at least she will have a faster recovery with that much-needed rest!