Monster High has a new blend of ghoulishly gorgeous students. Monster High Freaky Fusion Dolls are here. Get to know the Freaky Fusion crew, Clawvenus™, Cleolei™, Dracubecca™ and Lagoonafire™. This post is sponsored by Lunchbox, all opinions are my own.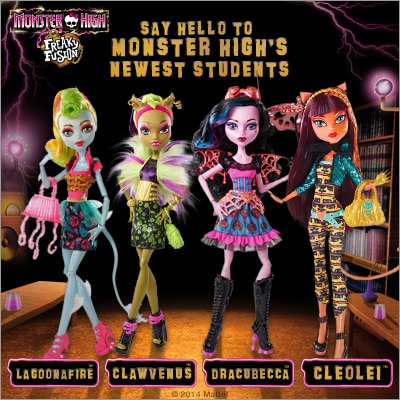 The story behind these new ghouls starts with Frankie. While trying to learn more about her past and family scaritage, she accidentally travels back into the year 1814. There she meets Sparky, a misguided teen who's obsessed with the creation of life. He ends up following Frankie back to present day Monster High, causing a lab accident that fuses eight ghouls in to four new monsters. Visit Walmart.com to get all the latest Freaky Fusion™ ghouls.
Meet the Monster High Freaky Fusion Dolls
Clawvenus™: Made up of Clawdeen Wolf® and Venus Mc Flytrap® – Clawvenus™ is fiercely "fusionable" and ferociously beautiful, but she may need to change her shampoo to a weed-and-feed formula.
Cleolei™ (Pronounced "Cleo-Lie"): Fusing the Mummy heritage of Cleo de Nile® with the werecat ancestry of Toralei®, Cleolei™ has some ferocious issues, but it's nothing a quick little cat-nap won't fix.
Dracubecca™: Mixing the Vampire heritage of Draculaura® with the Mad Scientist ancestry of Robecca Steam®, Dracubecca™ is scary sweet but still attached to rocket-powered boots.
Lagoonafire™: Fusing the Sea Monster heritage of Lagoona Blue® with the Chinese Dragon ancestry of Jinafire Long™ Lagoonafire™ loves to surf and swim like she's on fire — literally!

Which Ghoul are You Most Like?
Take the dual ghoul personality test! Are you most like Cleo de Nile® or Toralei®? Draculaura® or Robecca Steam®? Lagoona Blue® or Jinafire Long™? Clawdeen Wolf ®or Venus Mc Flytrap®?
Find out by taking the fun quiz on the Monster High® Freaky Fusion™ page. By choosing between "this" or "that" picture, you and your little ghoul can find out your Freaky Fusion™ percentage.

Monster High® Freaky Fusion™ Catacombs
Explore the creepy cool and spooky surroundings of the Monster High® Catacombs! Fang out with all your fave ghouls in this monstrous 3' x 4' play set packed with clawesome transformative features and secret surprises.
Take the test and let me know which ghoul you get in the comments below!