Every princess needs a castle. As a parent, a caregiver, and an educator I know that imagination is such an important part of a child's learning and development but with all of today's technology, video games, and computers, sometimes imaginative play gets put on the back burner. More often than not, in today's world, children are playing high-tech games and toys that think for them while losing the very important art of imaginative play. Building forts, writing stories, creating their own adventures seem to be a thing of the past. Although I love high-tech toys and games as much as the next person, I truly believe that they also need to be balanced with good old-fashioned imaginative play, like building castles with blocks, clay, finger painting, or simply laying on the grass looking at the animal shaped clouds in the sky. 🙂 Product received for review. Post contains affiliate links.
Mega Bloks Lil' Princess 3-Story Enchanted Castle
Your little one will have so much fun as she joins Princess Ivy and discovers a world of fairy tales in the Mega Bloks Lil' Princess 3-Story Enchanted Castle. Deep in the Secret Forest, your little one can design and build a beautiful palace that is the perfect place for a magical ball! Princess Ivy and her pony Chestnut can twirl and dance the night away on the spinning platform and balcony. The enchantment never ends with the Mega Bloks Lil' Princess 3-Story Enchanted Castle.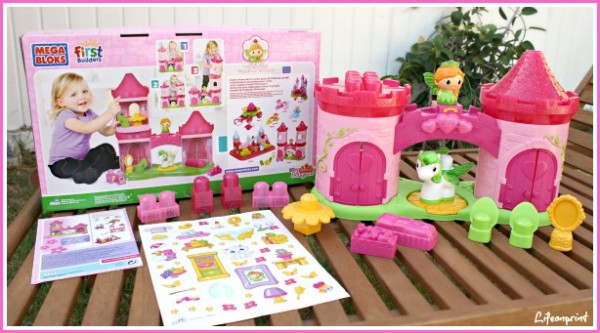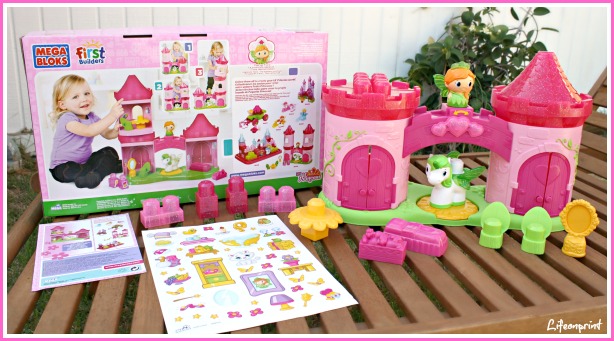 The Lil' Princess 3-Story Enchanted Castle comes with everything pictured above (20 pieces) including a large sheet of stickers for your little one to decorate the castle her way. Princess Ivy and Chestnut the pony are removable and fit onto the other Blok tops, such as the chairs, Ivy atop of her pony Chestnut, or the moving bases of the castle. You can build and rebuild with this very cool 3 story castle. Out of the box, the castle is 1 story on each side, but the walls of each room are removable and allow you to stack to create a second and even a third story. The center, top of the castle spins the princess around when the trio of hearts are moved back and forth and the yellow flower in the bottom, center also rotates. Princess Ivy's tiara "pops up" when she is places on any of the top pegs of the other pieces.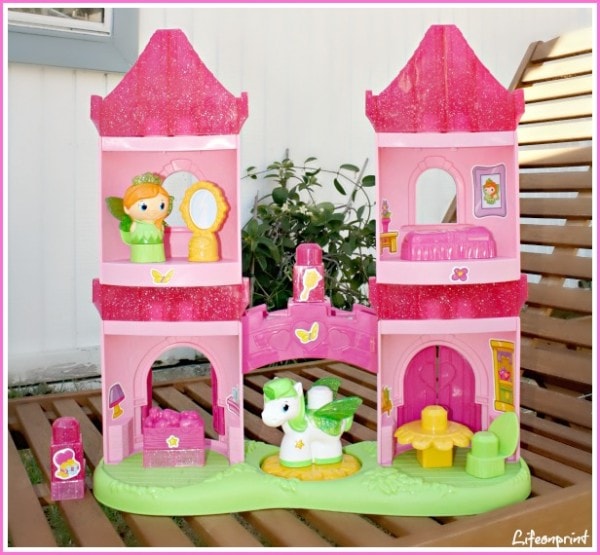 What I really like about the Mega Bloks castle is the large, easy to work with pieces, perfect for little hands. Another great thing about the size is you don't have to worry about them being a choking hazard like with traditional, smaller building blocks. Mega Bloks brightly colored pieces are also very durable, which is a huge plus! I like to test a products durability… so with the Mega Bloks I dropped them on the ground and threw a couple against the wall just to be sure 😉 Hey, sometimes kids throw their toys, right? 🙂
Features:
Big sparkling tower tops for exciting princess playtime
Three ways to build for hours of fun
Includes Princess Ivy with magic pop-up tiara and her pony Chestnut with sparkling removable wings
Also includes two chairs, a table, a mirror and food for Chestnut
Colorful stickers to decorate the enchanted castle
Combine with other Mega Bloks Lil' Princess buildable playsets for limitless fun
I give Mega Bloks five stars for – durability, performance, colorfulness, imagination building, quality, and for creating all around awesome toys!
You can also find Mega Bloks on Facebook and Twitter!
Buy the Mega Bloks Enchanted Castle for the magical little one in your life.