The plain men's wedding ring is swiftly becoming a relic of the past, and men's diamond wedding bands are more popular than ever. Men everywhere are discovering that they too can have these luxurious and incomparably handsome stones in their wedding bands. There is serious substance behind the style, however, and diamonds have a number of unique properties that have made them a coveted gemstone for thousands of years. Here are just some of the benefits of men's diamond wedding bands.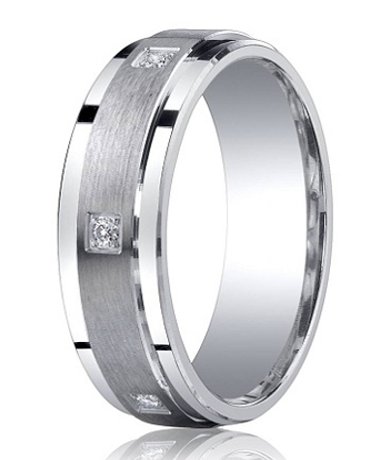 Why Choose Men's Diamond Wedding Bands?
Universal Appeal:
Diamonds' eye-catching sparkle is instantly recognizable and admired world-wide. The classic beauty of diamonds makes them an exquisite addition to nearly any kind of men's wedding ring. While materials like platinum or gold are classic choices for men's diamond wedding bands, diamonds can also add a welcome touch of luxury to less expensive contemporary materials like cobalt chrome, tungsten, titanium and ceramic. It would be nearly impossible to find a wedding band material that diamonds do not add a perfect finishing touch to.
Strength:
Simply put, a diamond is the strongest and hardest natural material known to man. Made of carbon atoms, a diamond rates 10 out of 10 on the Mohs scale of mineral hardness, easily topping even ultra-tough contemporary materials like tungsten carbide (an 8.5 to 9 on the Mohs scale).
Man has known about the remarkable strength of diamonds for thousands of years, as evidenced by the word diamond itself. Diamond comes from the ancient Greek word "adamas," meaning "unbreakable" and "unalterable." The hardness and scratch-resistance of diamonds have made them ideal for use in jewelry, especially items that must hold up to everyday wear like men's diamond wedding bands.
Timeless Value:
Not only are men's diamond wedding bands an instant visual status symbol, but they hold a very real and timeless value as well. Man has admired and utilized diamonds in jewelry for thousands of years, starting in ancient India. The popularity of diamonds, particularly for use in jewelry, increased even more dramatically in the 1800s as stone cutting, setting and polishing techniques were perfected, allowing diamonds to display their full and beautiful potential. The value of individual diamonds often depends on the famous 4 C's: cut, clarity, color and carat weight.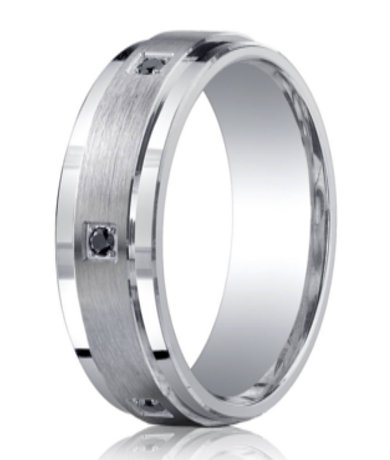 Options:
A diamond is much more than just a round cut white stone. Men's diamond wedding bands offer an impressive selection of colors, cuts and settings for nearly any budget. The particular make-up of diamonds – carbon atoms in a very rigid lattice – give diamonds their signature colorless look, as few impurities are capable of contaminating them. The color of a diamond is often contingent on what few impurities are able to penetrate its thick lattice. Boron renders diamonds blue, nitrogen makes them yellow and numerous inclusions can make them "black" (though natural diamonds are really more of a dark grey).
Natural fancy colored diamonds can be quite rare and expensive depending on the hue; however, both yellow and brown (or cognac) diamonds are actually more common than colorless diamonds and can be more competitively priced. Diamonds that have been color treated with radiation, like the majority of black diamonds in men's diamond wedding bands, can similarly be relatively affordably priced.
Because of their hardness diamonds can be cut into a variety of shapes without fear of easily breaking. The most popularly used cut for men's diamond wedding bands is the round or round brilliant, although marquis and emerald cut diamonds can also occasionally be seen in men's diamond rings. Men's diamond wedding bands most often utilize bezel, burnish, channel, and prong and bead settings to secure the stones in place. All of these variants give each man's diamond wedding band its own unique look.
These are just a few reasons why choosing a men's diamond ring is always an excellent idea. Men's diamond wedding bands have the style and durability to truly last a lifetime.
Author Name/Pen Name: Tanya Zilinskas Naouri
Author Bio: Argentium silver men's ring for men is a perfect combination of strength, durability and luxury. With the look of platinum in color, white tungsten is also a dense and scratch-resistant metal that is hypoallergenic and strong.